At the time of year when many string players are spending their weekends performing at weddings, we share the best wedding gig disaster stories from The Strad's readers and followers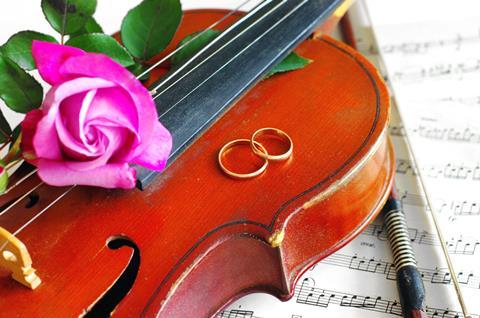 A while back, The Strad's editorial team and writers shared their wedding gig disaster stories, which involved botched proposals, cheese in shoes, spraying cats and musical misunderstandings. We asked for your wedding gig experiences, so here's a roundup of The Strad community's most unforgettable matrimonial musical memories, for better or worse.

Do you have a disastrous wedding performance story you'd like to share with us? Email us at thestrad@thestrad.com and your story might feature in a future online article!
Reading The Strad's wedding disaster stories (bit.ly/32Jq39i) reminded me of my younger years as a student in Cremona, when I did wedding gigs to make ends meet. I was lucky to be friends with an organist who was always happy to call me as a violinist for these occasions, and the extra cash was more than welcome.
One day I was called upon to perform a wedding gig in a village outside a town called Scandolara. The problem was there were two Scandolaras: Scandolara Ravara and Scandolara Ripa d'Oglio, and they were not even close to one another. So I made sure I got directions to the right one.
The wedding was scheduled for 11am so half an hour earlier I showed up with the organist. There was no one in sight and the church was closed. Finally, at about 10.50am, the priest came out and started sweeping the entrance. Perturbed by the lack of people, we asked him when the wedding was scheduled and he said: 'What wedding?'
By then things were clear: despite precise instructions we were at the wrong Scandolara. So we drove through the countryside until we entered the right Scandolara, just in time to see the bride and groom exit the church in the midst of the crowd and rice-throwing. Imagining the silent, music-less ceremony, I turned my Lancia around and we got out of there. Incredibly, we were still paid.
DIMITRI MUSAFIA
The memory of one particular gig comes back to me. 40-odd years ago I was asked to provide emergency cover for a violinist in a quartet booked to play at a very posh wedding reception. As I had, at the time, an ability to sight-read almost anything from memory with my eyes closed in a dark room I wasn't too worried about the music, but found on arrival that I was to play first fiddle and the quartet were on display as if giving a concert.
We got going and all was well until I had a page turn; I met my nemesis - a piece of viola music, upside down, had been put into the folder…I sucked in my cheeks (both sets) and vamped harmony until the end of the piece. Not a word was said afterwards and I never saw my fellow musicians again but the passing years make the memory more funny as they roll on.
Another time there was the even posher gig where a table of Hooray Henrys transformed some tableware into pea shooters and mercilessly bombarded our trio's instruments as we played…I'm sure we weren't that bad!
ANONYMOUS
I sucked in my cheeks (both sets) and vamped harmony until the end of the piece
I've been doing weddings (as a cellist) for about 40 years now. I've often told my colleagues we should write a book! Here's a new one: We were sitting in the balcony of the church. Of course, they had recording equipment up near us so we were trying to behave. Suddenly, the organist started playing. Thinking that we had missed a cue to play we all scrambled to look at our order of music.
No fear, as soon, we saw the bride turn around to face the congregation and begin to sing! 'Because you come to me…' She sang all the way to the high note at the end, upon which she raised her arms up as if she were the diva at a recital. Not once did she look over toward the groom. We were in tears, choking back our laughter (remember, it was being recorded right next to us). When she was done, she turned right around and the ceremony continued. Oh…I could tell many more stories!
TOM SMITH
I was the driver and cellist for our ad hoc string quartet wedding gig on a hot summer's day, deep in the heart of the countryside somewhere near Norfolk. We had allowed at least an hour extra travel time from London, in case there were any hold ups.
We arrived where the sat-nav had directed us, only to find a deserted country lane with a disused old barn; not what you'd expect for a wedding venue!
After a few frantic phone calls to our contractor, it then transpired she had given us the wrong postcode. Horrified and stressed to the max, we recalculated the route which said we were an hour from our actual wedding venue. It was certain we would arrive late and we were not even dressed in our proper attire.
Fast forward an hour, after breaking the speed limit a few times, we eventually arrived hot, sweaty, stressed and then had to quickly get changed into our dresses in the field, hiding behind my car next to the wedding venue barn. We had missed the actual ceremony - the crucial part! We had to graciously apologise to the married couple and guests and try to play seamlessly for the post-ceremony drinks. What a palaver!
The wedding party were all so forgiving…but we were utterly stressed and embarrassed. Not something I'd like to repeat again in a hurry.
HANNAH SCHOFIELD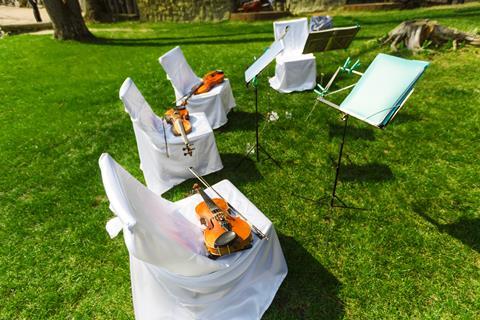 One of the easiest things about weddings for musicians is the 'turn up and play' mentality. If you're particularly nervous or you have a special request you can ask to look at the music in advance, but most of the time you're booked, you turn up, you play, you leave. Simple; you're there to add to their special day, not to be noticed. Or so you hope.
My most embarrassing moment happened during a bride's most treasured walk down the aisle. We were playing Pachelbel's Canon (shockingly as a cellist, it's one of my faves!) The violist announced that as it was his group, he would be the one to tell us when to draw to an end. All fine, no problems, until… 'please be upstanding for the bride!'
The violist stuck his head in his part never to look up again. The first violinist and I exchanged a frantic stare, as if to say, 'she's approaching the altar we need to stop, but he's not looking what are we going to do'. The second violinist looked at us and the three of us decided to end at the upcoming cadence. We finished elegantly and beautifully (if I do say so myself). The vicar and the three of us sighed with relief and the bride was none the wiser.
But no! What's this?
The violist hadn't looked up, or listened. He kept playing on his own before rising his foot high HIGH into the air as his apparent signal to stop. The group, that was supposed to be inconspicuous, had single-handedly annihilated the (hopefully) once in a lifetime chance for this bride to have her moment.
We were devastated. To this day, he has no idea of the chaos that ensued. He is blissfully unaware. There has never been a more silent car journey home.
RUTH HALLOWS
I was booked to play at a wedding and the bride turned up at my home. She said the wedding was off because she was in love with me. She said the organist had given her my address. He hadn't. The organist also told me the wedding hadn't been cancelled! How's that for a story?
ANTHONY THOMPSON via Twitter
Do you have a disastrous wedding performance story you'd like to share with us? Email us at thestrad@thestrad.com and your story might feature in a future online article!