We take a look into the musical life of the cellist, trombonist, composer and conductor, whose piece Benslow will premiere on 10 December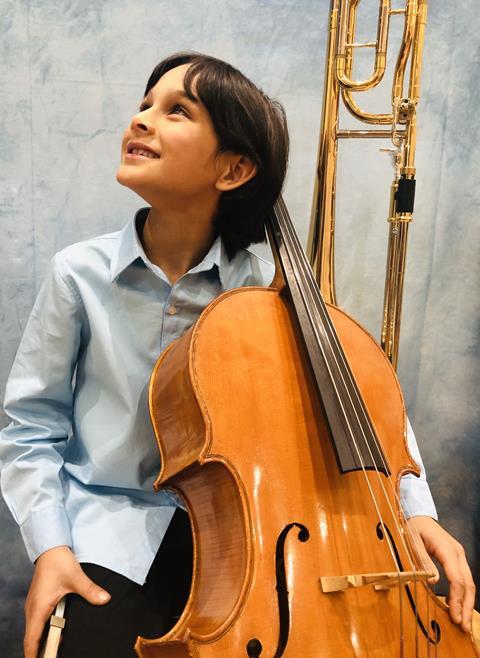 Discover more Featured Stories like this in The Strad Playing Hub
At only eight years old, Apollo Premadasa has already won numerous awards and accolades as a cellist, trombonist, composer and conductor. Ahead of the premiere performance of his work Benslow for the Benslow Music Festival Gala, Apollo spoke with The Strad about his busy, music-rich lifestyle.
Tell us about your instrument - how long have you played it and what's your favourite piece or effect to play on it?
I play the cello, trombone and I also conduct and compose. I play orchestral percussion and piano too which I have always loved playing but the cello and trombone are my main instruments. I would really love to be a professional conductor and composer one day. My mum is a musician and runs a music school. When I was little I used to see lots of different instruments when she took me to concerts. At the end of the concert, I would say to my mum 'I want this, I want this, I want this!' so that's how I chose these instruments.
I had a very tiny violin when I was a toddler but I used to put it in between my legs so my parents rented me my first little cello when I was two. I loved the sound and just played for fun!
I chose the cello because for me it has a really wonderful, grand and pleasant sound and I also love the special effects that it can make. My favourite effect is the amazing vibrato that it can make because it gives a richer and much nicer tone to decorate the sound and it feels like it is singing. I chose the trombone because it has a really sweet, powerful and majestic sound. My favourite effect that it can make is the sudden change of colour in the music because it goes from a metallic or brassy sound to a sweet lovely one.
Can you tell us about your most memorable performance on the cello?
All of my performances have been memorable. I always grow into my pieces in a performance. I grew up performing and always liked it and I still love performing. I think every musician has to have the experience of performing on a platform with a big audience. The ones that are even more special are the concerts where I play to help fundraise for the Ukrainian or Afghan refugees, for Save the Children, for Medicins Sans Frontiers, for WWF. I do two things I love: music and helping others.
Tell us about the piece you've written for the BMILS festival gala. Why did you decide to write for piano trio?
Etta Dainty, from Benslow Instrument Loan Scheme, kindly asked me to write a piano trio for the 90th Anniversary of the Instrumental Loan Scheme. I have always loved to compose for strings and I always wanted to write for a piano trio.
The first movement is jovial and in a major key, as is fitting for the celebration of the anniversary of the scheme, and it represents the journey of Editha Knocker and Edith Croll, the two wonderful women who created the Instrument Loan Scheme in 1932. They were both violinists and music teachers and Editha was also a conductor. The movement starts with a simple theme played by the solo violin and cello. This represents the initial idea of Editha and Edith to create something to help the young musicians to have access to good instruments. This simple idea between both string instruments starts developing and evolving into a full theme with rich texture and various different versions, forming the main music of the movement in the same way that their initial idea developed and evolved into the marvellous instrument scheme that we have today.
Despite being a trio, I wanted the violin and cello to have more prominence and lots of solos as it was initially a stringed instruments scheme and also both founders were violinists. To me the violin and the cello represent Editha and Edith dialoguing, combining, cooperating, complementing each other and coming together during the piece/their journey.
The initial theme is a simple rural melody influenced by the idea of the Rural School that their friend, Mary Ibberson, created to give access to music in the Hitchin area. This Rural School is now the Benslow Music Trust. To me, the piano in this movement represents Mary Ibberson accompanying the ideas of the two founders of the scheme. The theme keeps restating being restated to symbolise the persistence and determination of their idea.
The movement has lots of new musical ideas appearing and disappearing in the same way as the ideas that kept shaping their journey and it also has minor key passages which symbolise the difficulties that the scheme has found during its existence; but these passages always resolve to the major as the scheme has also overcome the hurdles.
To me, the main message I want to communicate with this movement is the ENERGY, DETERMINATION and COOPERATION that Editha Knocker and Edith Croll had during the creation of the Instrument Loan Scheme (originally the Violin Loan Scheme) and the joviality that we all should feel when celebrating its anniversary.
The second movement is in a minor key, very sad and represents imagining young musicians' lives without the Benslow Instrumental Scheme. If there was no Benslow we would not have the marvellous instruments we are allowed to use, play, learn from and love. If there was no Benslow, and therefore no good instruments for talented young musicians, these young musicians wouldn't be able to develop so we would have fewer great musicians in UK.
It also represents all the young musicians in the world, children and youngsters, who have a lot of talent and love music but don't have the resources for great studies or have good instruments. Children and youngsters who live in poverty or in war-torn countries like Afghanistan or Ukraine, or who live in countries with climate change disasters. We are so lucky to have Benslow who help us to help us and I feel sad thinking about all these musicians, children and youngsters, who are not lucky enough to have this help… and who love music as I do.
The second part of the movement is in E-flat Major and it represents how lucky we are to have Benslow and the hope that this scheme will continue to create happy young musicians and help our families who are helping us so much to continue loving music and become professional musicians.
But I finish with the slow minor theme to help us reflect of the importance of music as a universal language that unites all of us, all the young musicians, children and youngsters, around the world with all of you, our helpers and audiences.
How do you divide your time between your various musical activities along with everything else, such as school, sports, and socialising?
I am home-schooled so my music making isn't restricted to only the evening when I am tired. To be able to do so many things you have to be very organised and efficient.
First thing in the mornings I compose because I find my ideas much more rapidly and my brain is fresher. It is the best time for me, I do it alone in a wooden cabin. I practise around two or more hours a day each for the cello and trombone. Most days I also conduct, and play piano or percussion.
I am very lucky because as I do most music and academic studies during the day, I can go to lots of places in the evenings. I go to ballet, football, cricket, drama, scouts, among others. I also speak and learn lots of languages because I think every musician must know lots of languages to study, teach or play in lots of different countries. I love nature and on Thursdays I spend the day in NatureSchool where we make things with nature (mud, clay, wood, logs, etc.), have different nature topics, help charities that help animals and… play a lot! On Saturdays I go to Junior Guildhall the whole day. I love being there and I really enjoy it!
I have lots of friends from different places and who like different things and I have a lot of fun! I think I am very lucky.
Apollo performs on an English ¼ size cello by Colin Garrett loaned to him by BMILS.
Apollo Premadasa will be performing the premiere of his new composition in Benslow Music Instrument Loan Scheme's 90th anniversary concert on 10 December, featuring current and former Benslow borrowers. The concert hopes to raise funds for the charity which lends high quality instruments to talented young musicians. Tickets are £10 or free to those under 27 years from here: https://benslowmusic-ils.org/?PageID=236