The affordable instruments could pave their way into music education programmes in the future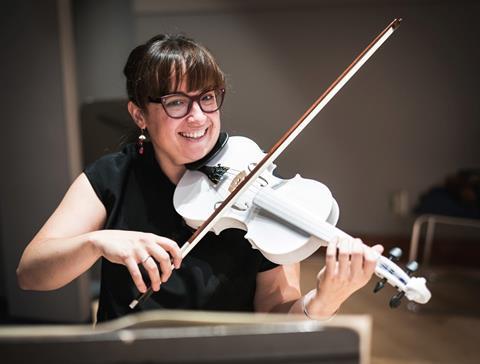 Read more news articles here
The Montreal-based Aviva Young Artists Program is looking to produce 3D-printed violins, in an effort to create better access to low-cost, durable instruments for music students.
'The team's inspiration roots in multiple places,' said Program director Mary-Elizabeth Brown. She presented her ideas, 'Old meets new: 3D-printing and the art of violin making', on 6 December as part of the 183rd meeting of the Acoustical Society of America. 'Our goals were to explore the new sound world created by using new materials, to leverage the new technology being used in other disciplines, and to make music education sustainable and accessible through the printing of more durable instruments.'
The 3D-printed violin was created in two sections. The violin's body is made from a plastic polymer material, in the same shape as a traditional acoustic violin, and comprises a series of square cavities inside. These help both to reduce weight and to produce a resonant tone. The neck and fingerboard are printed in smooth ABS plastic, which clips on to the body.
The 3D-printed violins are made at a fraction of the cost of a traditional violin, with printing costs at $7 and assembly at under $30. Assembly of the instrument involves installation of strings, chin rest, tailpiece and tuning pegs, which when bought wholesale could make each instrument more customisable for individual students. Considering that a typical student instrument still fetches several hundred or thousand dollars, the significant reduction in price could be an incentive in making the instruments more accessible for more students.
In addition, the programme explored the factors that result in the best violin sounds, with Brown performing Singularity by Harry Stafylakis, a concerto specially composed for 3D-printed instruments.
'The next step is to explore design modifications as well as efforts to lower the costs of production while making such instruments more widely available, especially in the realm of education,' Brown concluded.
Listen to the 3D-printed violin here: