How to keep your playing in shape while maintaining a busy schedule, by Misha Galaganov, professor of viola and chamber music at Texas Christian University, TX, US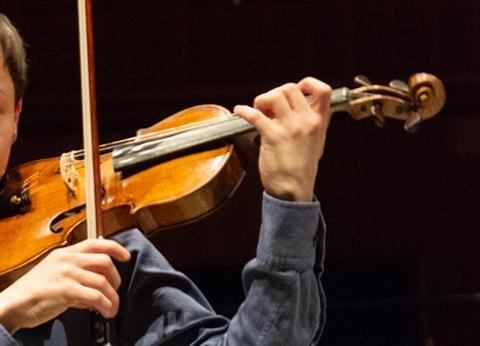 The following is an extract from a longer article published in The Strad's February 2020 issue and available to subscribers. To read in full, click here. The February 2020 digital magazine and print edition are on sale now.
It can be difficult to stay in top technical and musical shape as a professional musician, particularly for those of us who have busy teaching schedules and families, or for string teachers who do not perform regularly. In order to maintain high playing standards it is important to review basic skills every day, to keep our muscles strong and supple, and to keep our ears critical of our sound quality, intonation and phrasing, so that we play as beautifully and as consistently as we can. Without effective practice, our ability to assess our own playing, or to convert the sound we hear in our mind into the sound produced on the instrument, will degrade.
After years of experimentation I have developed a routine intended for players who already know what they are doing on their instruments but who need to maintain perfect shape, to help them sustain top playing form in around 30 minutes' practice a day. My system was inspired by a letter written by Tartini in 1779 (see bit.ly/34sB3Te), in which the violinist–composer advises his student Maddalena Lombardini how to practise. At first I developed it for my own personal use, but now I also share it with my students, who work gradually over time on its different elements, as separate technical goals.
EXERCISES
The timings suggested below are based on my own experience, intended for players already familiar with each technique. Adjust these according to your own needs, while focusing on intonation, fluidity and sound quality. Listen for any imperfections.
Scales and arpeggios (10–15 minutes)
Practise in a new key every day or two, in four octaves where possible (up to B major on the violin and E major on the viola). You could move up through the keys chromatically each day, choose randomly, or work through a cycle of 5ths.
Practise major and melodic, harmonic and natural minor scales and arpeggios in a slow to moderate tempo. Focus on intonation and sound.
Change mode order every day, to avoid routine
Practise two-octave scales in 3rds, 6ths, octaves and, if you are a violinist, fingered octaves and 10ths. Frequently check your tuning against open strings, and play with maximum resonance.
If you are short of time, practise one different octave of each double-stopped scale per day
Trills (2–5 minutes)
Tartini recommended practising trills by starting slowly and gradually increasing in speed. In exercise 1, practise both semitone and whole-tone trills, working up the scale until you have used all adjacent fingers. The speed of a falling finger is the same regardless of the tempo, so the faster the trill, the closer the fingers need to be to the string. Use a clean and even action, relaxing after each drop and lift, and be careful not to press down with the non-trilling finger.

To read the full article by Misha Galaganov, published in our February 2020 issue and available to subscribers, click here. The February 2020 digital magazine and print edition are on sale now.