May 2019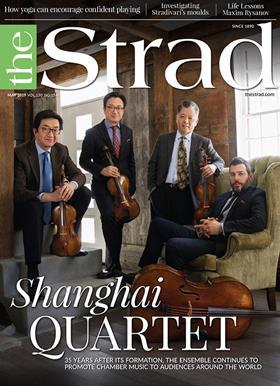 Shanghai Quartet: Celebrating their 35th anniversary, the members of the pioneering chamber group tell Charlotte Smith about China, Beethoven, and their instruments
Shostakovich violin works: In discussion with Julia Fischer, Vadim Gluzman and Gidon Kremer
Session report: Trio con Brio Copenhagen on recording all of Beethoven's piano trios
Yoga and string playing: The benefits and where to start
Life Lessons: Ukrainian violist Maxim Rysanov
Opinion: British violinists on the world stage
Postcard from Stradfest: What happened at The Strad 's first event for young string players?
Masterclass: Philippe Graffin on Ravel's Violin Sonata no.2 in G major
Technique: Ilya Kaler gives his thoughts on playing continuous vibrato
Sentimental Work: Rivka Golani's love of Michael Colgrass's viola concerto Chaconne
Stradivari's moulds: Philip Ihle and Andrea Zanrè on matching the master's violins with the surviving forms
Varnish analysis: The secrets of varnishes by Stainer, Maggini, Gasparo da Salò and others
In Focus: A violin made in 1937 by the Genoa-based luthier Paolo De Barbier
Trade Secrets: William Castle's intricate method for cutting f-holes
My Space: The workshop of Dutch luthiers Jaap Bolink and Annelies Steinhauer
Making Matters: The story of an opulent case that once housed the 'Lady Blunt' Stradivari
Plus in this month's digital edition:
This month's bumper 168-page digital edition includes our free Degrees 2019–20 supplement in its entirety - with all the institutions' weblinks and email addresses clickable, so you can go straight to to conservatoire or Hochschule you want. Plus:
Extra photos from Stradfest, The Strad's first event for up-and-coming string players
My Space: Jaap Bolink and Annelies Steinhauer show us around their Hilversum workshop
In Focus: extra images of our featured instrument, a violin by Genoese luthier Paolo de Barbieri
Making Matters: photos of a beautiful case that once housed the 'Lady Blunt' Stradivari
Session Report: hear clips from Trio con Brio Copenhagen's latest Beethoven release on Orchid Classics
Reviews: as ever, audio from the three recordings this month honoured with the scintillating title 'The Strad Recommends'
The digital magazine and print edition are on sale now
Do YOU have something to say about the new issue – or about the strings world generally? Send letters to the editor at thestrad@thestrad.com.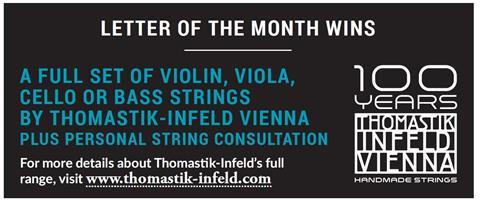 SUBSCRIBE TO THE STRAD
Since its launch in 1890, the magazine has brought its readers the best features, comment and analysis on all issues of interest to string teachers, players, students, instrument makers and enthusiasts. Authoritative, trusted and influential, The Strad keeps readers informed about the latest news, ground-breaking research and techniques in all aspects of playing and making stringed instruments through its print and digital platforms.
Included in subscription:
Twelve issues delivered direct to your door
Two posters showcasing exemplary instruments from the great makers of the past
The Strad Directory: the essential guide for the string music industry, with global listings for businesses, artisans and organisations
String Courses: international short courses for players and makers
Degrees: a directory of courses for string players and teachers worldwide
Accessories: Reviews and features on essential items for your instrument case and workshop
MISSED AN ISSUE?
Download every recent edition of The Strad now