March 2019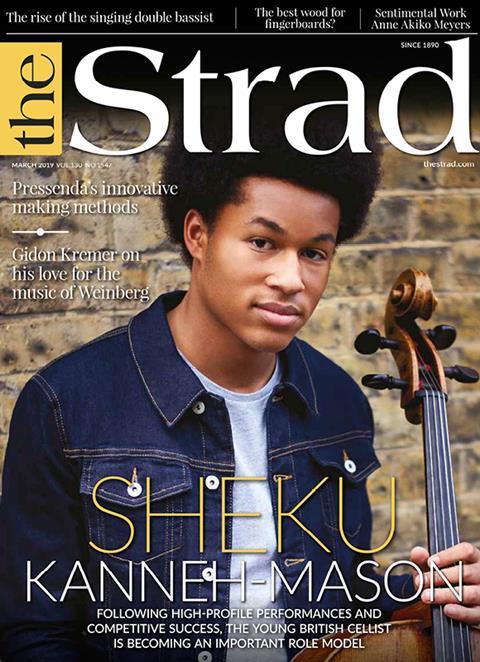 Sheku Kanneh-Mason: At just 19, following high-profile performances and competitive success, the young British cellist is becoming an important role model
Gidon Kremer on Mieczysław Weinberg
Works for singing double bassists, a fascinating subgenre
Pekka Kuusisto on his work with Greenpeace
Life Lessons: American cellist Lynn Harrell
Opinion: The musicality of silence
Report from the Huddersfield Contemporary Music Festival
Masterclass: Steven Tenenbom on the first two pieces in Schumann's Märchenbilder
Technique: Cellist Hans Jørgen Jensen's exercises for fast, tension-free playing
Sentimental Work: Two traditional Japanese songs evoke memories for Anne Akiko Meyers
A survey ofPressenda's blend of French and Italian influences by Tsutomu Miyasaka
Examining the acoustic properties of fingerboards made from different materials
In Focus: A violin made in Argentina by the Italian-born luthier Alfredo Del Lungo
Trade Secrets: Hayato Nagaishi's hassle-free and accurate method of neck setting
My Space: Swedish luthier Fredrik Nilsson
Making Matters: New research into the Corsby family of English instrument makers
Plus, in this month's digital edition:
View more CGI renderings of the proposed new London concert hall, home of the London Symphony Orchestra
Making Matters: more evidence that Charles Corsby was the unsung hero of the family, including comparisons of his work with those of John and George
In Focus: extra close-ups and angled photos of this month's violin, by Alfredo Del Lungo
My Space: more from this month's featured workshop, owned by Swedish luthier Fredrik Nilsson
And of course, hear snippets of the three recordings which earned this month's 'The Strad Recommends' labels from thestrad.com/reviews.
The digital magazine and print edition are on sale now
Do YOU have something to say about the new issue – or about the strings world generally? Send letters to the editor at thestrad@thestrad.com.
SUBSCRIBE TO THE STRAD
Since its launch in 1890, the magazine has brought its readers the best features, comment and analysis on all issues of interest to string teachers, players, students, instrument makers and enthusiasts. Authoritative, trusted and influential, The Strad keeps readers informed about the latest news, ground-breaking research and techniques in all aspects of playing and making stringed instruments through its print and digital platforms.
Included in subscription:
Twelve issues delivered direct to your door
Two posters showcasing exemplary instruments from the great makers of the past
The Strad Directory: the essential guide for the string music industry, with global listings for businesses, artisans and organisations
String Courses: international short courses for players and makers
Degrees: a directory of courses for string players and teachers worldwide
Accessories: Reviews and features on essential items for your instrument case and workshopribe Now
MISSED AN ISSUE?
Download every recent edition of The Strad now