September 2018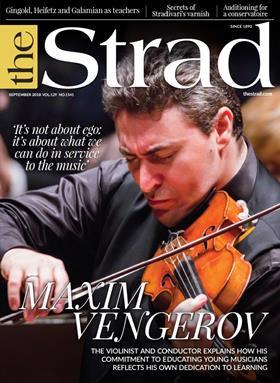 Maxim Vengerov: The violinist and conductor explains how his commitment to educating young musicians reflects his own dedication to learning
The role of cochineal in Stradivari's brilliant red varnishes
How to prepare for conservatoire auditions
Eugène Sartory's development viewed through his unbranded work
Bow repair: rescuing a damaged Sartory bow
The teaching methods of Gingold, Heifetz and Galamian
Photographing bows: the tricks and challenges
In Focus: The record-breaking c.1773 'Sinzheimer' violin by G.B. Guadagnini
Trade Secrets: A jig for arching corrections
My Space: Russian-born luthier Yuri Pochekin
Making Matters: Steve Rossow's various techniques for teaching violin making
Life Lessons: The memories and opinions of veteran cello teacher Aldo Parisot
Opinion: Teaching limb-different children
Postcard from Dresden: Report from Jan Vogler's Dresden Music Festival
Postcard from Yerevan: The Aram Khachaturian International Competition
Masterclass: British cellist Guy Johnston discusses Mendelssohn's Variations op.17
Technique: Leo Phillips gives his ingenious strategies for functional fingering
Sentimental Work: David Finckel explains his love for Myaskovsky's 1944-5 Cello Concerto
–
In this month's bumper 144-page digital edition: View extra photos of this month's In Focus instrument, the record-breaking 'ex-Sinzheimer' Guadagnini violin that fetched £1,587,000 at auction recently.
There's a privileged peek into the French chateau where violinists Julian Rachiln and Sarah McElravy got married, with several top string soloists giving them a rousing send-off.
Yuri Pochekin gives a tour of his Spanish workshop in My Space, and we present Pekka Kuusisto's theatrical rendition of Esa-Pekka Salonen's Foreign Bodies with the New York Philharmonic. Plus clips from the three recordings this month given 'The Strad Recommends' badge
Do YOU have something to say about the new issue – or about the strings world generally? For your chance to win a bundle of premium accessories, send letters to the editor at thestrad@thestrad.com.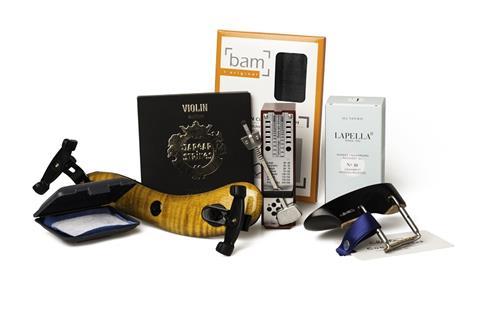 Letter of the Month wins:
Stretto Humidifier
VLM-Augustin Diamond Shoulder Rest (violin or viola)
Wittner Super Mini Taktell Metronome
Jargar Superior String set (violin, viola or cello)
BAM Cleaning Cloth
Götz New Flesch Chinrest with titanium screws (violin or viola)
Lapella Fingerboard Oil
SUBSCRIBE TO THE STRAD
Since its launch in 1890, the magazine has brought its readers the best features, comment and analysis on all issues of interest to string teachers, players, students, instrument makers and enthusiasts. Authoritative, trusted and influential, The Strad keeps readers informed about the latest news, ground-breaking research and techniques in all aspects of playing and making stringed instruments through its print and digital platforms.
Included in subscription:
Twelve issues delivered direct to your door
Two posters showcasing exemplary instruments from the great makers of the past
The Strad Directory: the essential guide for the string music industry, with global listings for businesses, artisans and organisations
String Courses: international short courses for players and makers
Degrees: a directory of courses for string players and teachers worldwide
Accessories: Reviews and features on essential items for your instrument case and workshop
MISSED AN ISSUE?
Download every recent edition of The Strad now
Stradivari's brilliant red varnishes
conservatoire auditions
Gingold, Heifetz and Galamian
The record-breaking c.1773 'Sinzheimer' violin by G.B. Guadagnini
A jig for arching corrections
Russian-born luthier Yuri Pochekin
Steve Rossow's various techniques for teaching violin making
Australian violist and composer Brett Dean
British cellist Guy Johnston discusses Mendelssohn's Variations op.17
gives his ingenious strategies for functional fingering
explains his love for Myaskovsky's 1944-5 Cello Concerto