As Alexandra Conunova prepares to release her new recording of the Four Seasons, the violinist explains why she continues to find inspiration in the Baroque masterpiece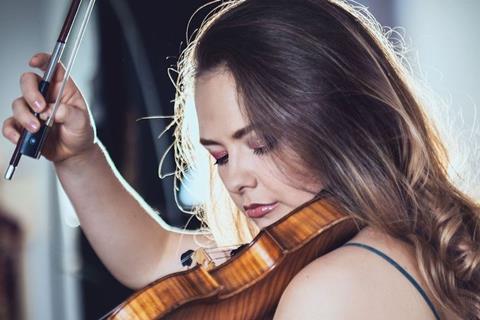 1.With millions of copies sold worldwide, Vivaldi's Four Seasons is one of the most popular classical pieces of all time. It has truly stood the test of time. Whilst preparing my new album, I was blown away by all of the scandals, the mystery and the intrigue surrounding the man behind the music. All this encouraged me to travel back in time with my ensemble, and live the music through Vivaldi's perception of the symbiosis of life – between nature and music.
2.When studying a score we often research information about the life, cultural context, and habits of that precise historical period and the composer. We read the letters and the diaries of the Masters to get closer to the idea of the music we are playing, whilst leaving ourselves room for our own imagination and storytelling to come through. Unlike with opera or ballet, there are very few violin pieces that are written as programme music, meaning some 'programme' of a literary idea, legend, or scenic description to follow. With Vivaldi's Four Seasons you have an immaculate storyline and a precise idea given by the composer himself. While it is still unclear whether the sonnets accompanying each movement of the Concerti are Vivaldi's own or borrowed, and whether they were written during the composition process or added some years later in order to boost its popularity, I feel privileged to have even the smallest glimmer of insight into how he thought nature should sound translated into music. It is as if Vivaldi himself was there at the recording process giving me precise indications, whilst also leaving room for my own imagination and inviting me and the harpsichordist to improvise in the terrific second movement of each Concerto.
Read: Listening to my idols makes me a better violinist, says Alexandra Conunova
Read: Alexandra Conunova; Natalie Clein: Beethoven
Read: Alexandra Conunova, Michail Lifits: Prokofiev
3. One of the things that impressed me the most about Vivaldi is the little-known fact that he was a Catholic priest. However, he gave up delivering Mass after a year due to a health condition thought to be asthma (It is actually very curious that his slow movements in Four Seasons are a sequence of chromatic chords, building up a feeling of tension that never resolves, mostly interrupted by the storm, as if Vivaldi was depicting his struggle with asthma and the need for fresh air). But the interesting fact is that, according to some researchers, Vivaldi's need to compose would sometimes be so strong that he would unexpectedly quit Mass to go and write down a melody. For me it's inspiring to imagine a man, a composer, whose music comes from a constant wrestle between deep spirituality and a strong desire for freedom of expression.
4. What is really impressive about Vivaldi's writing is that he never sketched his music before committing it to paper. There are no drafts in the manuscripts that were found after his death. He was writing right from his heart. This is mind-blowing to me. One can only imagine the extent of his genius. He was supposed to write two concertos a month; instead he was writing two a week. This explains the tremendous number of masterpieces he left for us all to enjoy.
5. Last but not least, Vivaldi will forever inspire me because of the context in which this recording of Four Seasons was conceived. During the lockdown period I received an amazing number of supportive messages and comments from my followers regarding my YouTube video of a Vivaldi Four Seasons recording (2015), which was a great source of comfort to me in such troubling times. These followers of mine asked me if I had recorded the piece. It was these messages that drove me to go against any restrictions and find a way to make the impossible possible. So I gathered my friends, and we made music together. This recording of Four Seasons is dedicated to all my listeners who have so dearly supported me through these difficult times.
Violinist Alexandra Conunova will release a new Vivaldi recording of Four Seasons with Aparté, out on 20 November 2020. Find out more here