For those who have picked up their instruments after a hiatus and thought, 'What on earth is this?!' - five string teachers from around the UK share exercises for both hands, posture, listening and performance
Explore more Featured Stories like this in The Strad Playing Hub
The year 2020 will certainly be remembered for its unique challenges presented by the onset of the Covid-19 pandemic. As performing musicians, we can all remember that sinking feeling of months of work being cancelled, the lack of motivation to unpack our instruments to practise, as well as the newfound wrangling with technology that came along with the arrival of online teaching and livestream performances. Now that concert venues in the UK and various places worldwide are being reopened, along comes a new set of 2021-specific qualms pertaining to performing musicians - as much as we may have missed live performance and lessons, many of us may have asked ourselves 'How on earth did I manage to do this before?'
Perhaps you returned to your first gig after various lockdowns and your left hand fingertips stung with pain, due to a distinct lack of callouses. Maybe you found your tone quality had deteriorated, your stamina had disappeared, or even your physical playing posture had collapsed due to lack of regular practice and performance. Here is a compilation of recommendations and tips from some top string teachers at UK conservatoires on how to celebrate the return to playing after a break.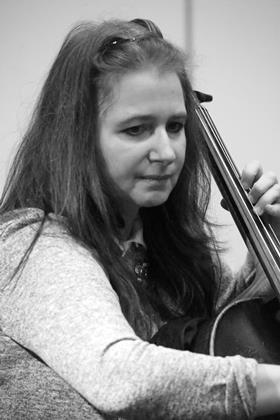 Regaining control of the right and left hands:
One of the most challenging aspects of emerging from lockdown as a performer for many has been confidence- confidence about the act of communicating and projecting both sound and musical ideas (however much this is also the 'longed for' and exciting ultimate reason to play) and also about resuming the level of physical instrumental control and stamina that the player may have enjoyed prior to lockdown.
Therefore I like to focus my right hand recommendations on regaining the widest range of bow skills, playing scales with different conscious combinations of bow speed, sounding point, weight and articulations. Warming up by improvising rather than going straight into a pre-formed exercise can help make the connection between heart, brain and hands more natural, more at the service of what we will play.
With the left hand, a focus on the aspects of applying pulse to shifting, confirming the 'guide notes' that form the imaginary grid of positions on the fingerboard, and practising a wide range of intervals in different shift rhythms and bow patterns, followed by applying these ideas to materials (such as Feuillard 16) can help build back control and confidence. Once these more basic patterns and tactile combinations feel more established I'd often move onto some less easy to predict material such as Christopher Bunting's excellent and more challenging 'Portfolio of exercises' (books one and two).'
Hannah Roberts, Principal Cellist Manchester Camerata, Professor of Cello RAM (London) and RNCM (Manchester), Visiting Artist in Cello BCU
Reacquainting oneself with the right fingertips: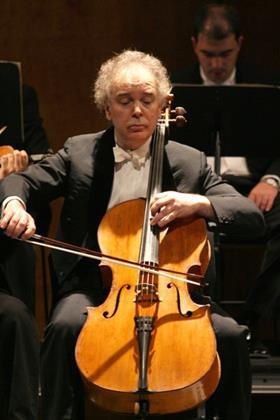 The interaction of fingertips and phalanges is the frontline in the chain of command to enable good bow contact. A useful way to feel their involvement is to play for a few minutes with the fingertips on top of the stick. Building on this, to develop the muscularity of the hand as a whole, is an exercise given to me by Pierre Fournier: Place the bow on the D or G string at the point. With maximum wrist and minimum arm movement, whip the bow back and forth 180º, ensuring the landing back on the string avoids any bouncing of the tip. The ability of the bow to lift off and return to the string seamlessly mirrors a singer's breathing as an essential component of phrasing.
Richard Markson, FHEA, Senior Fellow - Trinity Laban Conservatoire of Music and Dance
Physical posture and elemental left and right hand exercises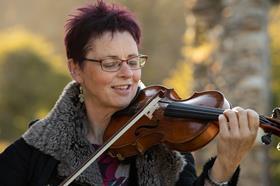 We all have gaps between work patches, holidays, breaks, and now the pandemic, which has had the most enormous effect on musicians everywhere. So, you lost your gigs and concerts – maybe you had to find other non-playing work to survive economically – hopefully some of your gigs have returned. Some people might have submerged themselves into practice, but for most, the focus will have waned. How do you reactivate your playing?
Well, my recommendation would be to firstly, look to your body remembering that you, yourself are more than half of the playing – not just the instrument! Yoga, stretching, breathing, fitness, balance, swimming – there are many ways to wake up your system. Meditation is good, as is visualisation, for finding your focus with your mind.
Physically for string players, I recommend breaking down the technical components: Begin by spending a little time on your posture and instrument hold, with loose arms, feeling your feet on the floor, do some tapping (lifting fingers at the base joints) first slowly then faster, threes and fours on each string with each finger. You can tap double stops too. Left hand pizzicato – first simply open strings, then building using bits from Sevcik, Ricci etc.
For your bow arm: I personally begin by very elemental improvisation, listening intently to my sound, playing simple mini phrases starting with an open string, exploring contact points nearer to the bridge and further away – doing this intuitively, rather than technically, to get a good connection to flow and sound. The bow is your breath for you to sing – without breath we cannot have a voice.
If improvising comes easily to you, expand the scope. If not, perhaps take an extract of Bach unaccompanied Sonata, Partita or Suite, and play at a comfortable pace to suit your needs.
To focus your bow technique more, apply consonants by doing some collé (pinching and releasing into the air from the string), martélé and detaché. I like to think of string sound production as having consonants and vowels, each stroke has a start, a centre, and a finish – this might be with attack, or no attack, depending on the music being played. The centre might be free and resonating, or sustained and firm.
When starting up again, be sure to take breaks – our brains and systems do a lot of consolidation between practice sessions. Gradually build up your time spent daily.
Professor Sophie Langdon FRAM ARAM Royal Academy of Music – Professor of Violin and Academic Lecturer, Founder of Enhanced Performance Techniques for musicians EPT
Exploring quality of sound and chamber music listening exercises: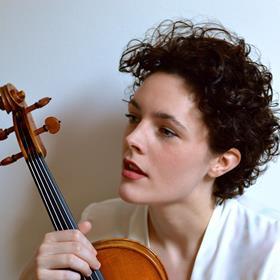 I've noticed that after a really long period of time of online learning, for some students, their sound was so thin because of all sorts of reasons - it's much harder for a teacher to really hear what's going on with a student's sound on the other end of a Zoom call, even if you have the best mic setup in the world! That coupled with a pandemic and institutions being closed for a very long period of time, many students had very little or no in-person lessons for the best part of a year.
Now that we're back in person, especially the last few months, I've encouraged my students to make a solid, core sound and I keep saying to them, it's not about volume, it's not a volume dial issue: It's about having a real core and quality to your sound. Once we get that back then we have a kind of 'crude oil' that we can work with and refine the sound.
One of the first things I'll do after a break (both for myself and my students) is explore points of contact along the string, and just really hearing the difference in sound. I use big, full bows, feeling the natural weight of my body and how it can really help with a free natural production of sound. It's developing the strength and flexibility again in order to be very physically free, because when that goes, our natural instinct is to tense up. We start using too much weight, our elbows get involved and we work too hard.
Now that we're back to in-person chamber coaching sessions, I make sure my students are consciously listening to always make a conversation. Chamber music is a mutual journey. I always try to find a way of making it a discussion, rather than 'talking at' my students. I'll ask very open questions and I'll always include other members of the group in a discussion, even if the discussion in that moment is only honing in on one particular voice line. They start to listen a lot more to what's happening around them and not just what's going on in their own world, and then I find that reflects back into their own playing more as they get a little braver with trying things out.
Rebecca Breen - violist and chamber music coach at Junior Guildhall
Practising performing and regaining performance confidence: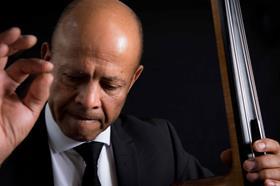 Like many colleagues will have done, I spent the entire pandemic practising diligently – learning new repertoire, revisiting old repertoire, and attending to aspects of my musical well-being that are usually mercilessly buffeted in the hurly-burly of the music profession. But, however revitalising this time away from the concert platform may have been, practice is after all only practice, and the absence of public performance inevitably has consequences.
A number of online concerts from the comparative safety of my own home notwithstanding, my first 'in-person' return to work was to record as soloist; simultaneously facing microphones and cameras. And although I was undeniably well prepared, it was disconcerting to discover that as accustomed as I was – after four decades of concertising – to making quick connections under pressure, I was far from 'match-fit' and had some way to go to recover my previous form.
For me the only rational conclusion was that regular public performance is critical to artistic and physical resilience, and that it also boosts confidence. As music splutters back to life after the pandemic, each of us faces a unique cocktail of physical, intellectual, and psychological challenges. Focusing on this ought therefore to be paramount, with the speediest and most effective recovery of pre-pandemic levels of musical virtuosity being the ultimate goal.
It is imperative then to develop a regime that recreates the elevated stresses of public performance; one that requires the body, intellect, and soul to interact at lightning speed. Whilst smart practice of necessity focuses on polishing individual components of a piece of music, much more time and energy need to be devoted to deliberately practising performance itself. Clearly identify the difference between remedial work that takes place in private, and the more demanding artistic and performance practice that is essentially for public consumption. Inviting an audience – even one person makes a difference – to witness your practice is the most effective means of accelerating the journey from practice room to the concert hall.
Gauging from the beautiful but fundamentally confidential performances of my students at conservatoire, and professional colleagues who come to me for advice, sound production has been another casualty of the pandemic. Projecting sound to the furthest reaches of a concert hall demands greater levels of physical engagement. One of my students has since secured regular access to his local church and practising in an environment substantially larger than the domestic setting imposed by the pandemic has had immediate benefits for him.
A previous duo partner of mine always insisted that we run through entire recital programmes multiple times before performances, and this practice will during the post-covid recovery process prove to be a useful means of rebuilding stamina.
I have meanwhile recorded three more CDs; a recital disc, a concerto disc, and one of chamber music; given public performances as recitalist, concerto soloist and chamber musician. And whilst it is tempting to imagine that vanquishing 'Covid cobwebs' will be easy, I am convinced that a deliberate plan of action will assure a full recovery.
Leon Bosch - Professor of double bass at Trinity Laban Conservatoire of Music and Dance