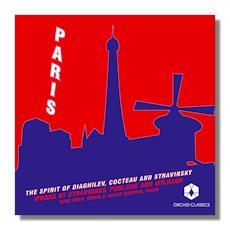 The Strad Issue: January 2007
Musicians: Maya Koch (violin) Julian Milford (piano)
Composer: Poulenc, Stravinsky, Milhaud
Sumptuously engineered and glowingly played, this recital simply oozes class. The Poulenc Sonata (unaccountably neglected by comparison with its wind-instrument cousins) is often played very cool as though any hint of espressivo indulgence would ruin the effect. Maya Koch and Julian Milford really have their fingers on the pulse, however, tantalisingly infusing this glorious music with about as much warmth and interpretative vim it can take without losing its neo-Classical poise. The opening movement is no faceless 'non troppo' but a true 'con fuoco' while the Presto finale is played 'tragico', just as indicated.
It was a suggestion of Diaghilev's that led to Stravinsky composing Pulcinella (1920), based on music that was then ostensibly thought to be by the Italian composer Pergolesi. He later arranged a suite of the most popular movements for violin and piano as the Suite italienne, which is extremely tricky to bring off. Throughout Stravinsky's love of piquant wind articulation is ever-present, yet with so many wonderful melodies to wallow in it is difficult not to lapse into cantabile indulgence from time to time. Koch seems completely unfazed, however, playing with an elegance and natural warmth that is delectable.
Milhaud's Le boeuf sur le toit is one of the few pieces of music that really is genuinely 'laugh-out-loud' funny with a rollicking rondo theme that once heard is impossible to forget. It is also fiendishly difficult (with a firecracker solo cadenza), yet Koch and Milford hardly seem to notice, so infectious are their fine-honed musical responses. Bravo!
JULIAN HAYLOCK