Emily Sun adds Australia's ABC Classic FM competition to an already impressive list of recent successes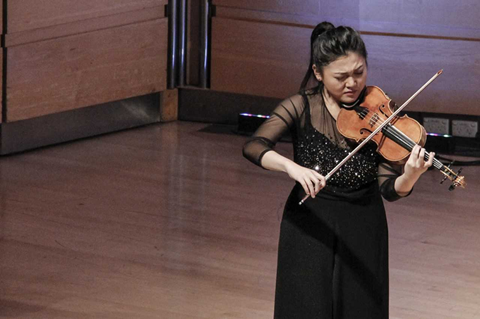 The ABC Young Performers Award, in its 74th edition this year, has gone to violinist Emily Sun for her performance of the Beethoven concerto at the Sydney Opera House final.
Sun earns a cash prize of AUD 30,000 (c. £17,000, USD 22,000), plus an AUD 50,000 further study scholarship. The win also makes her ABC Classic FM's artist in residence, with broadcast opportunities and an album recording. She was also awarded professional engagements with the Sydney, Melbourne and Adelaide Symphony Orchestras, City Recital Hall and Melbourne Recital Hall, and the Youth Music Foundation prize for Best Recital in the Semi Finals.
The other two finalists were Kevin Chow (piano) and Oliver Shermacher (clarinet).
The finals were broadcast live on ABC Classic FM from the concert hall of the Sydney Opera House, and are available to listen to on the station's website.
Among a number of recent successes, Sun has previously won the Gold Medal of the 2016 Royal Overseas League Music Competition (UK), the 2017 Bromsgrove International Competition (UK), and the Symphony Australia Young Performer of the Year Strings Award.
She studied at the Sydney Conservatorium of Music with Robin Wilson and at the Royal College of Music, London, with Itzhak Rashkovsky. She is currently pursing an Artist Diploma at the Royal College of Music and is an artist-in-residence at Chapelle Musicale Reine Elisabeth, Belgium, mentored by Augustin Dumay.