The soloist has collaborated with author Michael Morpurgo and Radiohead's Jonny Greenwood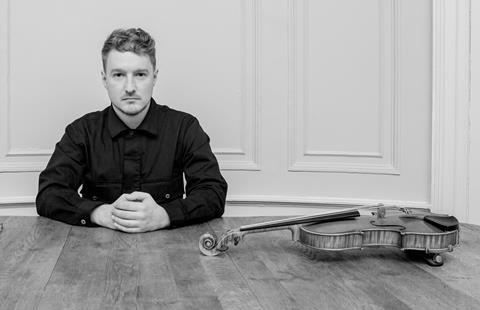 Photo David James Grinly
Daniel Pioro, who has collaborated with artists including Radiohead guitarist and composer Jonny Greenwood, author Michael Morpurgo, and Canadian audiovisual artists Janet Cardiff and George Bures Miller, has been signed by the arts management company Askonas Holt.
Based in London and Edinburgh, Pioro has performed as soloist with the London Philharmonic Orchestra, the BBC Philharmonic, the London Contemporary Orchestra, and the BBC National Orchestra of Wales. He made his BBC Proms debut in 2019 in the world premiere of Greenwood's Horror vacui for solo violin and 68 strings, with the BBC National Orchestra of Wales and the BBC Proms Youth Ensemble.
The 2019/20 season sees Pioro give the world premiere of Tom Coult's first violin concerto with the BBC Philharmonic Orchestra and Ilan Volkov, and make his debut at the Barbican Centre performing an arrangement of Vaughan Williams' The Lark Ascending for violin, cello, viola da gamba and organ as part of the venue's Contemporary Music series. Together with the Icelandic composer and producer Valgeir Sigurðsson, Pioro will give multiple electro-acoustic performances throughout the season, including his North American debut at the Big Ears Festival in 2020.
Pioro's collaborations with Morpurgo resulted in The Storyteller's Ensemble, a group of musicians devoted to the written and spoken word; he has also worked cross-genre collaborations with artists including Canadian audiovisual artists Cardiff and Miller. In March 2019 his debut album, Dust, featuring music for solo violin and electronics, was released on the Bedroom Community label, and in September 2019 his recording of Bach's Partita no.2 was released on Octatonic Records.