Violinist Stephen Shipps received his sentence last Thursday for sexually exploiting a minor 20 years ago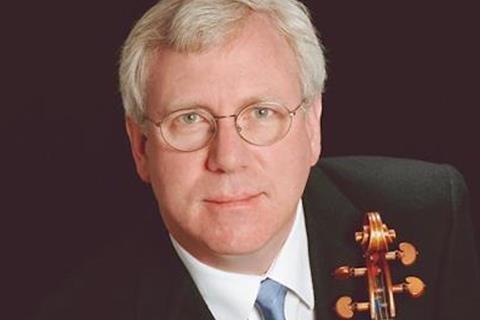 Violinist Stephen Shipps, a former chair of the department of strings at University of Michigan School of Music, has been senteced to five years in federal prison for child exploitation.
The sentencing follows his trial last November, at which he pleaded guilty to transporting a 16-year-old girl across state lines for sex in 2002. The 69-year-old has also been accused of preying on and abusing at least nine minors who were his violin students and babysitters for his children. Using alcohol and drugs to influence his victims, assistant US attorney Sara Woodward called Shipps 'a coercive abuser'
'For decades, Shipps had inappropriate and damaging sexual relationships with his students. The seriousness of his crimes cannot be overstated. Shipps inflicted extensive emotional harm upon (the victim) and other teenage girls that stayed with them for the rest of their lives.
'He stole (her) adolescence, and the adolescence of his other victims.'
Shipps will also pay $120,000 in restitution.
Reported in the Detroit Free Press, one woman stated, 'No person is all good or all bad. But Shipps, an excellent violin teacher, was also a wolf in sheep's clothing. He intentionally set a trap for me — one he knew I wouldn't see because I was a kid and no match for a seasoned predator.' The victim's impact statement was read at Shipps' sentencing.
Apologising at the sentencing, Shipps said, 'I have broken the law and I acknowledge that. I think more relevant is that my actions have caused harm. I am sorry for having been a bad citizen, but I'm even more sorry for hurting (the victim) in that process. I'm trying to make amends as best I can and will continue to do so.'
Acknowledging his struggle with alcoholism, he continued, 'It took too long, but over the last couple of decades I've learned a lot about myself. Some of that has been through finding faith, and some of it has been through getting sober — which was very much a function of my finding faith. I have tried to use those insights to be a better person, and I will definitely continue doing that as well.'
From 1989 to 2019, Shipps was employed as a violin professor by the University of Michigan School of Music, Theatre and Dance. He was also director of the String Preparatory Programme, which offered coaching to young musicians, and served on the faculties of Indiana University, the North Carolina School of the Arts, the University of Nebraska – Omaha, and the Banff Centre in Canada.
He also taught students at summer music programmes in the Czech Republic, Germany and the United Kingdom. Following publication of his sexual misconduct in the university's paper the Michigan Daily, Shipps was placed on leave in December 2018. He retired from the University of Michigan in 2019.