Old Italians and a modern bow proved popular at this autumn's auctions, as Kevin MacDonald reports

This Guarneri 'filius Andreae' made £504,000 at Ingles & Hayday
There was a time not so long ago when a leisurely stroll down New Bond Street and its environs would allow you to view all of London's seasonal violin auctions. No longer – to view the six October sales, from The Langham hotel (Amati) to the Royal Over-Seas League (Brompton's) and all points in between comprises a circuit of a couple of miles. Of course, all of this allows the viewing of a grand total of 1,132 tempting lots, so it is well worth the hike.
Upper-range 18th-century Italian violins were available in profusion in the autumn sales, Guadagninis and Gaglianos in particular. However, the season's top lot was a fine Giuseppe Guarneri 'filius Andreae' violin from c.1715, which sold at Ingles & Hayday for £504,000. Other important early Italian violins from I&H included a G.B. Guadagnini from his Turin period (1774) for £348,000 – fresh to market after more than a century with the same family; and a c.1770 Nicolò Gagliano at £192,000. Across at Brompton's, a Guadagnini from his days in Parma (with a dendrochronology report and a replacement of its bass-side back) made £240,000; and a c.1725 Alessandro Gaglianò violin went for an undisclosed price. Finally at Tarisio, two Gagliano violins, by Gennaro (c.1760) and Giuseppe and Antonio (c.1780) made £29,500 and £78,000 respectively.
Vuillaume cellos do not often come on to the market, so it's an event when one does. Tarisio sold a well-preserved, Hill-certificated c.1845 Vuillaume copy of the 'Duport' Stradivari (his model of choice from 1834 onwards) for £350,000, well above its £220,000 upper estimate. Three Vuillaume violins were also on the block and in demand: an 1846 'del Gesù' model at Tarisio (£140,600), and two Strad models at Ingles & Hayday (1862 and c.1840), which went for £156,000 and £180,000 respectively. In comparison, I&H also sold an outstanding 1847 violin made by Vuillaume's esteemed contemporary Georges Chanot I for £34,800 – a comparative bargain. In a similar vein, a very fine 1878 Miremont cello, the preferred maker of legendary cellist Pierre Fournier, sold for £72,000 at Brompton's.

Ingles &Hayday sold this c.1820 Tourte bow for £114,000

Among the violin bows a clear stand-out was an F.X. Tourte from c.1820. This bow had a replaced adjuster, ferrule and heelplate – but an original gold back plate, thus proving it to be a gold-mounted Tourte. With a real ne plus ultra stick, this one went near the top of its estimate at Ingles & Hayday for £114,000. At Tarisio a self-rehairing Pierre Simon cello bow, with the usual replaced frog and filled-in cheeks went for £30,000, while a pristine c.1855 Simon violin bow, bearing its original tinsel lapping, brought in £55,200 at Brompton's.
It is uncommon for the resold bows of a living maker to make five figures. But Benoît Rolland, the MacArthur Genius fellow, is a bit out of the ordinary. A gold- and tortoiseshell-mounted viola bow he made in 1979 went for £12,000 at Tarisio. At another extreme, and of historical interest, a c.1840 Betts-stamped cello bow – a fluted self-conscious Victorian homage to Baroque style that featured in the 2000 book The British Violin – was a real bargain for someone at £4,000 from Brompton's.
A decade ago Sotheby's still used to combine some of its violin auctions with early music sales. Now the auction of such instruments is more dispersed, though one occasionally catches sight of such fascinating lots as a 1755 pardessus de viole by Guersan, sold at Brompton's for £21,600. This beautiful instrument was formerly played by Thurston Dart (1921–71), the great English musicologist and early music pioneer.
As usual, over at the Westbury Hotel, Gardiner Houlgate produced some interesting items while mainly selling good speculative and entry-level lots. In particular there was a Brescian cello 'probably by Gasparo da Salò' with a dendro report for its table confirming 1520 for the last ring. It sold for £16,200. Further highlights included a 1921 Giorgio Gatti violin for £24,000 and a Lockey Hill cello for £14,400.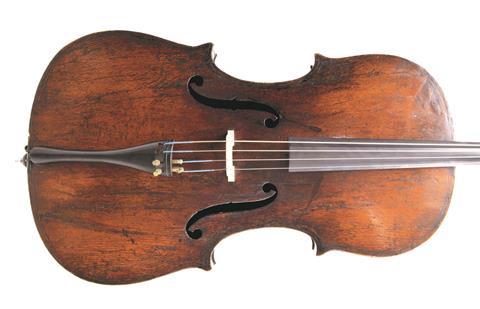 Gardiner Houlgate sold this c.1520 Brescian cello for £16,000
Among the other interesting lots there was a very handsome and well-preserved Vincenzo Panormo violin (London, c.1810) that had been masquerading as a Pressenda. Now re-certificated by John Dilworth, it made £48,000 at Ingles & Hayday. Also at I&H another of those mysterious and fascinating 18th-century violins previously attributed to Maggini turned up at a very reasonable £9,000. At Tarisio an eye-catching 1878 Viennese 'del Gesù' copy by Gabriel Lemböck sold for £16,800, and someone walked away with a real bargain when an early 18th-century 'school of Mariani' Italian violin (ripe for re-Baroquing) went below its lower estimate at £4,720.
Finally, although not the top lot of the season in price (it was fifth), the most intriguing and dramatic was surely an early (1810) Guarneri 'del Gesù' copy by Nicolas Lupot. One forgets that at this date, before Paganini made his way to Paris, 'del Gesù' instruments had already been played to acclaim there by Jarnović and Rode. While Lupot mainly followed Stradivari in his creations, he was familiar with 'del Gesù' and, as Jacques Francais noted in his certificate, at least five such copies by Lupot exist. So this is a rich historical rarity (and the subject of next month's In Focus). It was a hushed auction room that watched this instrument make its way slowly, meditatively, up to its £252,000 purchase price.
All sale prices include buyer's premium. All photos courtesy the auction houses.
This report is published in the January 2020 issue of The Strad. Click here to log-in or subscribe. Download the issue on desktop computer or through The Strad App.