Examining the world's most expensive violin, the 'Vieuxtemps' Guarneri 'Del Gesù', plus Anne Akiko Meyers discusses playing it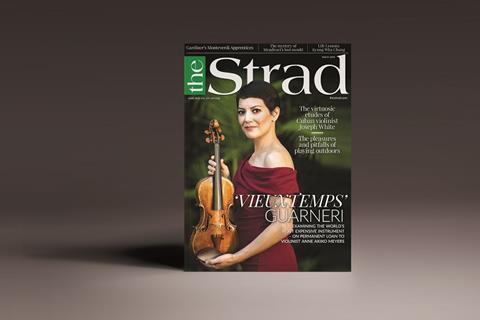 The Strad June 2018 issue is out now in which we publish part two of an in-depth study of the 'Vieuxtemps' Guarneri 'Del Gesù', plus Anne Akiko Meyers, who has it on permanent loan, discusses playing the world's most expensive violin.
We talk to experienced performers about the pitfalls of performing outdoors and share their golden rules for making the best of it; and look at the life and best-known works of a trailblazer for players of African descent, the violinist Joseph White, who died 100 years ago.
Peter Quantrill reports on John Eliot Gardiner's pioneering Monteverdi Apprentices scheme, which allows young players to spend a year with his three top ensembles; and Nicholas Sackman examines the evidence that Count Cozio di Salabue once owned a mould from the Stradivari workshop that has since vanished without trace.
In our regular sections:
In Focus features a 1701 cello by David Tecchler; Ken Altman explains his device for extracting a pearl slide from a bow frog in Trade Secrets; My Space features the workshop of Austrian luthier Hans Pluhar; and in Making Matters M.J. Kwan tackles the tricky subject of fingerboard dimensions and curves.
In our monthly Masterclass, Adrian Butterfield gives his thoughts on Handel's Violin Sonata in G minor; Gwen Thompson-Robinow discusses flexibility in the right hand for violinists in Technique; South Korean violinist Kyung Wha Chung tells us her Life Lessons; plus Pekka Kuusisto discusses Prokofiev's Violin Concerto no.1 in Sentimental Work.
We also bring you news of the latest competitions, products and auctions, and comprehensive reviews of concerts, CDs and books, plus Accessories 2018, our guide to strings, bridges, rosin, pickups, and much more.
The digital magazine and print edition are on sale now