Georgian violinist Lisa Batiashvili talks about her new role as artistic director of the Audi Summer Concerts festival, and her most personal recording to date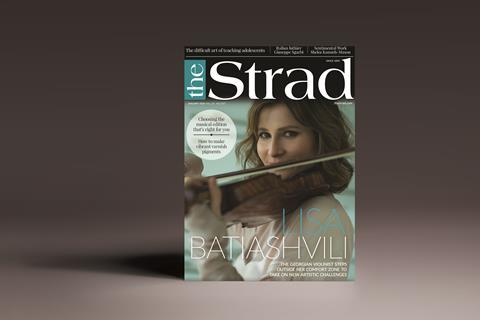 Georgian violinist Lisa Batiashvili, newly appointed artistic director of the Audi Summer Concerts festival, talks about her new role; her close working partnerships with conductors and orchestras; and her most personal recording to date - the forthcoming CD City Lights.
Following three years of experimentation, stringed instrument makers Hugh Withycombe and Guy Harrison reveal the results of their quest to discover how to make deep red colouring from the natural dye of the madder root.
Teaching teenagers and knowing how best to motivate and bring out their potential can be a mystery for many teachers. Violinist and Ohio State University professor of music education Bob Gillespie shares his considerable experience.
The instruments of the lesser-known Modena luthier Giuseppe Sgarbi have a unique vibrancy and individuality about them - and betray the influence of the 19th-century Venetian school, says Lorenzo Frignani.
Should a musician always work from an urtext edition in an attempt to access the composer's intention? Or can edited versions with interpretative markings be more useful? Pedro de Alcantara considers the merits of different versions of a score.
In our regular sections:
The issue's Masterclass comes from Leila Josefowicz, who offers a detailed look at Berg's Violin Concerto; in Technique double bassist Christine Hoock looks at line and phrase; Kronos Quartet first violinist David Harrington offers his Life Lessons; plus in Sentimental Work cellist Sheku Kanneh-Mason shares her passion for the Elgar Cello Concerto. Our Postcard this month comes from the Zhuhai International Mozart Competition in China.
In Focus examines a 1933 violin by Ansaldo Poggi; Trade Secrets looks at how to make an additional 'peninsular' workbench for 360-degree work; My Space peeks inside the workshop of Toronto luthier Stephen Quinney; and Making Matters asks: did the old Cremonese luthiers have a series of 'recipes' for violin design?
We also bring you news of the latest competitions, products and auctions, and comprehensive reviews of concerts, CDs and books.
Plus, in your bumper 164-page January digital edition:
View extra photos of the 'ice cello' on which cellist Seth Parker Woods performed at this year's Huddersfield Contemporary Musical Festival

More photos of the top instruments from this season's UK auctions, including a Guersan pardessus de viole and a Benoît Rolland bow

Extra images from cover star Lisa Batiashvili's inaugural Audi Summer Concerts festival, from summer 2019

Toronto-based luthier Stephen Quinney gives a guided tour of his workshop in My Space, with exclusive photos

In Focus: more of the Ansaldo Poggi violin, including the interior

All-round views of a strikingly unusual Giuseppe Sgarbi violin in our feature article dedicated to the maker

As ever, clips from The Strad Recommends new recordings

PLUS: our full 52-page String Courses supplement, including page jumps to all the relevant pages
The digital magazine and print edition are on sale now, or subscribe to access the entire magazine online here.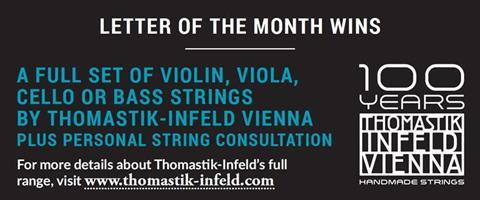 Have something to say about the new issue? Send letters to the editor at thestrad@thestrad.com