The members of the Ébène Quartet talk about the group's 20th anniversary, and the challenge of finding a new violist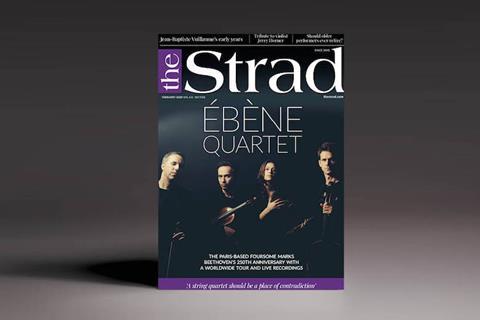 The Ébène Quartet has just turned 20. We talk to its four players about reaching this milestone, and discuss their current Beethoven project, as well as the challenge of finding a new violist.
There's little written material about the developmental phase of the 19th-century French maker Vuillaume. We rectify matters by scrutinising six of his early violins.
We celebrate the life and legacy of Jerry Horner, the violist and pedagogue who died in February 2019, with contributions from former students and colleagues.
There are only ten instruments left from the career of the 17th-century viol maker Michel Collichon. We explain why all of them testify to his fascinating, innovative style.
Pauline Harding speaks to string players - both young and old - to find out how they deal with the idea of retirement, assuming they want one at all.
In our regular sections:
The issue's Masterclass comes from the cellist Moray Walsh, who gives tips on performing Schubert's Arpeggione Sonata; in Technique violist Misha Galaganov offers advice on how to stay in shape on just 30 minutes of practice per day; Swiss cellist Christian Poltéra shares his life lessons; plus in Sentimental Work violinist Jean-Luc Ponty discusses the genesis of his own piece 'Renaissance'. This month's Postcard comes from the third Oleh Krysa International Violin Competition.
In Focus examines on of the few Nicolas Lupot violinst to have been modelled on a Guarneri 'del Gesù'; Trade Secrets explores New York luthier Guy Rabut's system for fitting cello endpins; My Space offers a glimpse of Yves-Antoine Gachet's workshop; and Making Matters focuses on tuning fingerboards.
We also bring you news of the latest competitions, products and auctions, and comprehensive reviews of concerts, CDs and books.
Plus, in your scintillating February digital edition:
View a plethora of extra photos from some of Vuillaume's earliest instruments, including interiors, scroll views and unusual angles

Read about Johan Dalene's debut CD in Session Report, along with audio clpis of the finished product

More pictures from the world premiere of Ludomir Różycki's Violin Concerto, given by Janusz Wawrowski at the ned of December 2019

Extra photos from the Oleh Krysa international Violin Competition, including all six of the semi-finalists

Mirecourt luthier Yves-Antoine Gachet presents more views of his workshop in My Space

And, as ever, clips from the three CDs this month on which we've bestowed the illustrious moniker: 'The Strad Recommends'
The digital magazine and print edition are on sale now, or subscribe to access the entire magazine online here.