Vilde Frang on her unusual path to international acclaim, and the unlikely pairing of works on her new album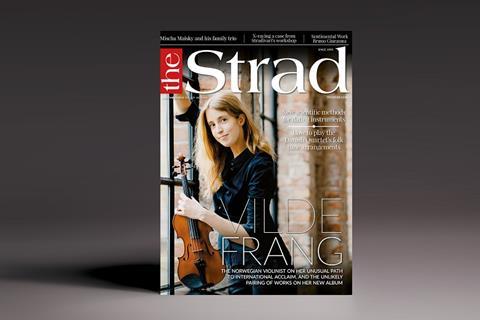 The Strad December 2018 issue is out now in which Norwegian violinist Vilde Frang talks to us about unconventional programming, collaboration and her latest CD of works by Bartók and Enescu.
Dimitri Musafia analyses the materials and methods revealed by X-rays of the 'Milan' violin case, said to have been made in Stradivari's workshop; and Jennifer Mass and Yung Chin explore some of the newest technologies and tools used in the battle to reveal an instrument's true date– and foil the fakers.
We interview the Danish Quartet which, in response to public demand, has published the sheet music for its folk CD, Wood Works; and Mischa Maisky tells about his recent international tour alongside two of his children – to mark his 70th year.
We also publish a full report from the 2018 Shanghai Isaac Stern International Violin Competition.
In our regular sections:
In Focus features a Richard Meares bass viol from; Bow maker Markus Laine gives a method for filling in gaps in Pernambuco in Trade Secrets; My Space looks at the workshop of Florentine luthier Emanuele Abolaffio; and in Making Matters we hear from Steven Sirr and John Waddle on new research into the 'longitudinal arch structure'.
Our monthly Masterclass is from violinist Pablo Hernán Benedí on Schubert's 'Death and the Maiden' Quartet; cellist Gabriel Prynn discusses how to tackle rhythm in modern repertoire in Technique; German cellist Alban Gerhardt tells us his Life Lessons; plus Bruno Giuranna on Hindemith's notorious Solo Viola Sonata in Sentimental Work.
We also bring you news of the latest competitions, products and auctions, and comprehensive reviews of concerts, CDs and books.
Plus, in this month's digital edition:
View the full line-up of finalists for the Shanghai Isaac Stern International Violin Competition in performance
Extra photos of the rare 'Milan' case, made in Antonio Stradivari's workshop
Performance shots of the Jack Quartet, Alina Ibragimova, Jószef Szilvay Sr and Jr, Leonidas Kavakos, Yo-Yo Ma and Emanuel Ax, and Slawomir Wilga in our extensive Concert Reviews section
Listen to clips from Mischa Maisky's Adagietto CD while reading his interview
Bruno Giuranna performs Hindemith's notorious Solo Sonata in Sentimental Work
More images of our In focus instrument, the rare Richard Meares bass viol
My Space: Emanuele Abolaffio gives us a guided tour of his extensive Florentine atelier
Technique: Jacob Prynn demonstrates how to practise complex rhythms in six audio clips
And, of course, clips from the three recordings with this issue's 'The Strad Recommends' stickers
The digital magazine and print edition are on sale now
Do YOU have something to say about the new issue – or about the strings world generally? Send letters to the editor at thestrad@thestrad.com.