South African-born double bassist Leon Bosch on commissioning, conducting, his favourite basses, diversity in classical music, and much more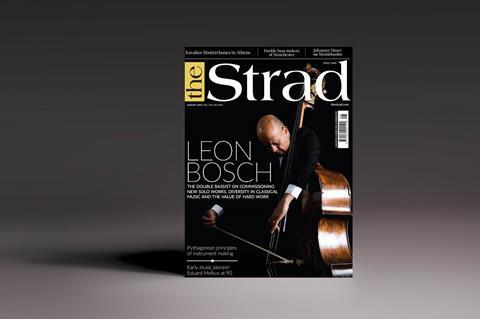 Leon Bosch has held top orchestral double bass posts and performed as a soloist on multiple international stages since arriving in the UK from South Africa in 1982. But he is not ready to rest on his laurels, as new works and new challenges await.
In a mini focus on the double bass, we also learn about Northern British basses, with Thomas Martin, George Martin and Martin Lawrence investigating the legacy of William Tarr and the 19th-century bass making boom around Manchester; plus both the Sentimental Work and Technique columns this issue feature bass players (see below).
We report back from Leonidas Kavakos's masterclass series in Athens, and interview the Austrian violinist and violist Eduard Melkus who turned 90 last year.
François Denis demonstrates the influence of the ancient Greeks on how the pioneers of violin making decide on the instrument's basic form and proportions; and we have full reports from the Queen Elisabeth Competition in Brussels and the Montreal International Music Competition; plus Simon Smith asks whether orchestral training robbing young players of valuable practice time.
In our regular sections:
Our monthly Masterclass is from cellist Johannes Moser discusses the first movement of Mendelssohn's Cello Sonata no.2; Danny Ziemann on the fundamentals of walking bass in Technique; British cellist Anton Lukoszevieze tells us his Life Lessons; plus Barry Guy chooses Theraps by Xenakis as his Sentimental Work.
In Focus features a 1689 cello by Andrea Guarneri; bow maker Victor Bernard's method for making a Tourte-style eye in Trade Secrets; My Space features the workshop of German luthier Lukas Kehnen; and in Making Matters Joseph Curtin explains his quick and simple method for dealing with a wolf note.
We also bring you news of the latest competitions, products and auctions, and comprehensive reviews of concerts, CDs and books.
Plus, in this month's digital edition:
Extra photos from the exhibition devoted to Jacob Stainer in Innsbruck, Austria
View all the finalists in performance at the Queen Elisabeth Competition and Montreal International Music Competition, both this year dedicated to the violin
More photos from Leon Bosch, including his work with I Musicanti, bassists at Trinity Laban, and his marathon medals
All-round views of this month's My Space luthier, Lukas Kehnen of Bochum, Germany
And as ever, clips from all three of recordings which earned 'The Strad Recommends' sticker
The digital magazine and print edition are on sale now
Do YOU have something to say about the new issue – or about the strings world generally? Send letters to the editor at thestrad@thestrad.com.