Shirley J. Thompson will join other female creatives including award-winning visual artist Emma Smith and Deborah Goatley-Birch in an arts and heritage programme running alongside the games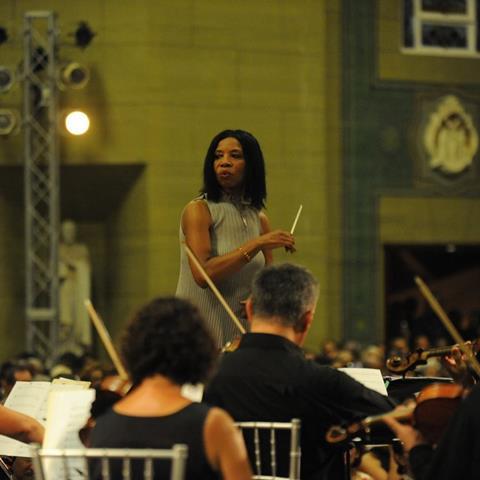 The arts and heritage programme for the UEFA Women's Euro tournament has named British-Jamaican musician Shirley J. Thompson OBE as its composer in residence.
Alongside other new commissions by women artists, Thompson, who is also a violinist, conductor and film maker, has written two new pieces to mark the tournament. The new UEFA commemoration anthem Beautiful Game, performed by the Royal Philharmonic Orchestra (RPO), was composed and led by Thompson. Beautiful Game will be accompanied by other women composers; Rosie Bergonzi, Charlotte Harding, Alice Phelps Detta Danford, Sam Mason and Raye Harvey who – joined by RPO musicians - have worked with communities in the host cities to create local anthems that reflect the spirit of each area.
Thompson has also composed the first concerto for footballer/s and orchestra, Momentum. The concerto incorporates a musical score recorded by the RPO with a choreographed routine of football tricks with two versions of choreography to make it inclusive for all.
Darren Henley, chief executive for Arts Council England said: 'The UEFA Women's Euro 2022 will be a huge event this summer – attracting the world's attention – and I am very proud that arts, culture and creativity will play such a vital role in the tournament. I hope that everyone takes the opportunity to experience the cultural programme, which has been created by leading female artists, and that it creates a lasting and inspiring legacy'.
Other commissions include the award-winning visual artist Emma Smith's immersive and participatory artwork The Supercompensation Cycle which invites the public to warm-up for each match by replicating the movements inspired by those from historic footage of football players. Interdisciplinary artist, Deborah Goatley-Birch's new creative resource pack which will enable communities to come together to celebrate and enjoy the UEFA Women's Euro 2022.
Idel Women, an art, environment and social justice collaboration, is planning A Stadium for the Future as part of the programme. Engineered and hand built by and for women, A Stadium for the Future is in response to the the lack of dedicated women's football grounds in the UK, depsite advancements in the game.
Caterina Loriggio, arts and heritage lead for the UEFA Women's Euro 2022, said: 'We are delighted to be working with an extraordinary group of artists, historians, players, collaborators and institutions across the country to realise a significant arts and heritage programme that will pay tribute to women who have dedicated their lives to the game of football.'
The programme will be managed by the Football Association (FA), the national governing body of football in England with funding from The National Lottery Heritage Fund and Arts Council England. It is the first time the FA has run a programme of this cultural scale alongside a major tournament. It is hoped that such a scheme will establish female role models for both girls and boys through the arts.