The auction is part of a celebratory fortnight, from 24 February-10 March, where Music Masters highlights the work of its Ambassadors and Artists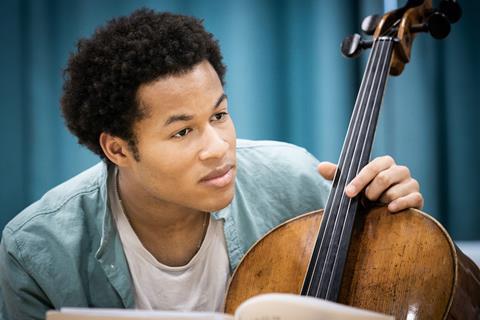 The cellist Sheku Kanneh-Mason is auctioning off a 30-minute private concert and chat for one winning bidder and up to nine guests in aid of the music education charity, Music Masters.
The auction, which will run from 3-10 March on the Music Masters website, is part of a celebratory fortnight, where Music Masters is highlighting the work of its Ambassadors and Artists who visit London primary schools to inspire young music-makers.
Elsewhere in the fortnight (24 February to 10 March), Kanneh-Mason will join musicians including his pianist sister Isata Kanneh-Mason and violinist Nicola Benedetti to perform in the concert Ambassadors for Change. It will take place from 7-8pm on 3 March and will be available for all to watch for free on the charity's website and its facebook page.
Read Music Masters announces composer Daniel Kidane as its latest Ambassador
Read New partnership between Music Masters and YCAT gets underway with a new series
Watch Sheku Kanneh-Mason on his signature dance move
As part of the concert, Sheku and Isata Kanneh-Mason will perform The Muse from Rachmaninoff's Fourteen Romances, Op 34. Elsewhere Randall Goosby plays Florence Price's Elfentanz, Hyeyoon Park and Benjamin Grosvenor perform Schumann's Abendlied, and there are other performances from Nicola Benedetti, Elena Urioste, Tom Poster, Harlem Quartet and Benjamin Grosvenor.
The event culminates with a performance of Bha lá eile ann ('There was a different day') by Donald Grant arranged by Tom Poster – performed by Sheku Kanneh-Mason, Elena Urioste, Tom Poster, Hyeyoon Park and Music Masters pupils.