Sonatas, songs and lullabies full of delicious autumnal colour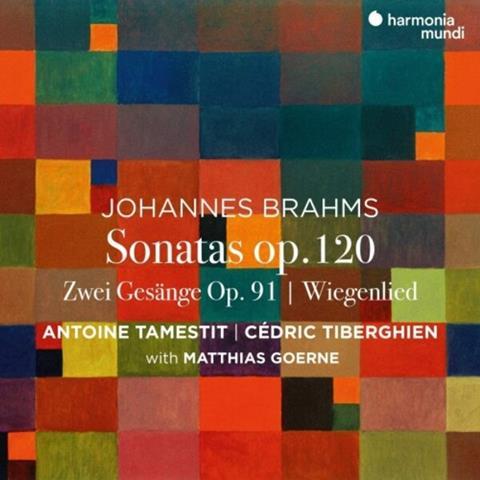 The Strad Issue: May 2021
Description: Sonatas, songs and lullabies full of delicious autumnal colour
Musicians: Antoine Tamestit (viola) Cédric Tiberghien (piano) Matthias Goerne (baritone)
Works: Brahms: Sonatas for viola and piano op.120; Nachtigall op.97 no.1; Wiegenlied op.49 no.4; Zwei Gesänge op.91
Catalogue number: HARMONIA MUNDI HMM 902652
The adjective 'autumnal' is often employed to describe Brahms's late pieces, and the present performances seem veritably to demand its use, imbued as they are with the darkly glowing colours of a late 19th-century Bechstein piano, in which Antoine Tamestit's 1672 'Mahler' Stradivari is cosily embedded. Cédric Tiberghien's sensitive touch prompts some seductively velouté sonorities from the viola, but Tamestit can also lend his tone a distinct reediness at the appropriate moments. His vibrato is most imaginatively varied, and both players are very good at Brahms's trademark cross-rhythms, which they put across with unassuming naturalness.
I can't help wishing that Tamestit had occasionally referred to the original (clarinet) versions of the sonatas; Brahms was never completely happy with the viola parts as published, deeming them 'awkward and unsatisfying' on account of their many (unnecessary) transpositions. Tempos are on the fast side throughout, disconcertingly so in the 'sostenuto' section of the Second Sonata's scherzo, which loses solemnity at this quick pace but, conversely, comes across as more related to the movement's main section.
Brahms obviously envisaged a female singer for his Gesänge op.91, written for Joseph Joachim and his wife. While in our enlightened times there is no reason why a man shouldn't be singing a cradle song, for all of Matthias Goerne's artistry, viola and baritone can get in each other's way when operating at the same pitch. The two shorter songs, performed on the viola, make for delightful interludes.
CARLOS MARÍA SOLARE