The Japanese collection will be deciding the next recipients of six Stradivarius instruments, including the complete quartet once treasured by Paganini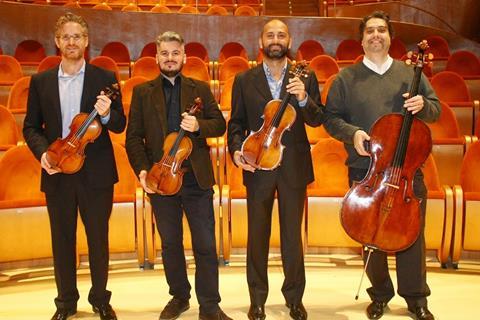 The Tokyo-based Nippon Music Foundation is inviting applications from violinists, cellists and quartets for its 25th annual loan committee meeting. It has six instruments by Stradivari available: one violin, one cello, and the famed Paganini Quartet of instruments once owned and known to be treasured by the great violinist.
The Nippon Foundation now owns a total of 21 instruments made by Antonio Stradivari and Guarneri 'del Gesù' and loans them 'to young promising musicians and internationally active musicians regardless of their nationalities'.
Current recipients include Veronika Eberle, Benjamin Beilman, Ray Chen, Arabella Steinbacher, Alina Pogostkina and Pablo Ferrández. The foundation also lends the 1708 'Huggins' Stradivari to the winner of the violin edition of the Queen Elisabeth Competition (currently Ji Young Lim).
The Paganini Quartet comprises the 1727 'Comte Cozio di Salabue' and 1680 'Desaint' violins; one of just 13 surviving violas by Stradivari, the 'Mendelssohn' of 1731, the tone of which so inspired Paganini that he commissioned Berlioz to write Harold in Italy for it; and the 1736 'Ladenburg' cello, thought to be the maker's last.
The quartet was separated after Paganini's death and only reassembled in the 1950s by dealer Emil Herrmann in New York. It was played by the Paganini and Cleveland Quartets and then became the first acquisition of the Nippon Music Foundation in 1994. Subsequently it went to the Tokyo Quartet until it disbanded in 2013, followed by the Hagen Quartet and for a special project to the Quartetto di Cremona until late last year.
In order to be eligible for a long-term loan, musicians must be 35 years old or under on 1 September 2019, or an average of under 40 for quartet. The foundation also accepts ad hoc applications for special projects, such as recordings or anniversary concerts, with no age restriction.
It was under such an arrangement that the Quartetto di Cremona was loan the Paganini instruments from September 2018 to December 2019.
'It has been an extraordinary and unique experience not only for the quality of these fabulous instruments but mainly for what they represent, for their incredible history,' the quartet told The Strad.
'We think it is great that other quartets will experience the incredible opportunity to play the Paganini Quartet thanks to the enlightened vision of the NMF.
'We have "fixed" our sound with the four Strads recording a double CD including the Schubert "Death and the Maiden" Quartet and the amazing String Quintet in C Major. Now we are happy to be back to our Guadagnini, Testore, Torazzi and Amati instruments which have been waiting for us for a while.
'To the next recipients of the "Paganini Quartet" we can just say: enjoy!'
The application window is 1 to 31 March 2019. More information on the Nippon Music Foundation website