The 'Sinzheimer' violin pushes past $2m mark in Tarisio auction, breaking previous record for maker set in 2016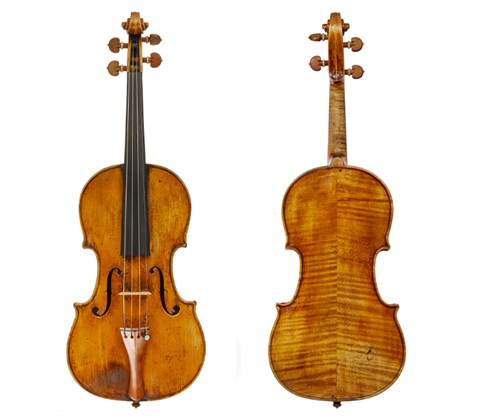 The 'Sinzheimer' violin, mabe by Giovanni Battista Guadagnini early in his Turin period, has broken the auction record for the maker, fetching $2,105,305 (£1,587,000) including buyer's premium at Tarisio's 25 June London auction.
The previous record, also made at Tarisio, was for the 'Havemeyer' cello which made just over $1.5m in May 2016. The previous record for a violin by the maker was $1.39m in October 2013.
The violin, described as is in exceptional condition with no internal patches, was listed with an estimate of £500,000–700,000.
The catalogue description stated:
'This sale marks the first time that the "ex-Sinzheimer" Guadagnini has been offered for sale publicly in nearly 60 years. Previously attributed to the maker's Milan period, this exceptional instrument is recognizable to 21st-century eyes as a fine example from the 1773–75 period, when Guadagnini was newly arrived in Turin. Instruments from this period have a flat arch, a golden straw-colored varnish, offset pins on two-piece backs and a reversion to non-oval, Stradivari-inspired lower soundholes. We see twins of this instrument in the 1775 'Bisiach, Joseph, Dushkin', the 1774 'Salabue, de Narp', the 1772 'Kaufman', the 1773 'Campoli, Grumiaux' and many others.
'The 1937 certificate from Fridolin Hamma states that this violin was played for some years by Carl Flesch. Its first recorded owner, Lene Hesse-Sinzheimer, was born Helene Hesse in 1896 in Mannheim. Her father, Richard Hesse, was the concertmaster of the Mannheim National Theater Orchestra and she later married Max Sinzheimer, who replaced her father as concertmaster of the same orchestra. When she emigrated to the USA in 1939 she joined the Chicago Symphony Orchestra and in her later years devoted herself to teaching. She died in 1957 and the violin was sold in 1960 by Kenneth Warren & Son to its current owner.'