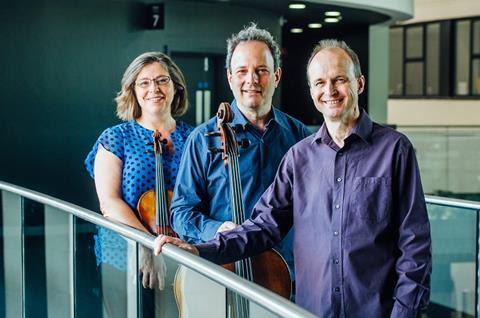 The Gould Piano Trio, which last year celebrated its 25th anniversary, has announced that the cellist Richard Lester is joining the ensemble. He replaces Alice Neary, who was a member of the trio for more than 16 years.
Equally comfortable with both period and modern instruments, Lester was principal with the Orchestra of the Age of Enlightement for many years and has been principal cello with the Chamber Orchestra of Europe since 1989. He also spent 17 years as a member of the former Florestan Trio, which disbanded in January 2012.
'After 17 wonderful years of playing trios with my former Florestan colleagues, it was time to have a break,' Lester commented. 'Now, though, the trio literature beckons anew and I'm thrilled to have the opportunity to renew acquaintance with old favourites and get to know some different repertoire that I missed first time around - and all with such great musicians.'
His new colleagues, the ensemble founder Lucy Gould and pianist Benjamin Frith, keenly anticipate working with him. 'We are delighted that Richard Lester has joined the Trio,' they said. 'From his years of playing in the former Florestan Trio he brings his profound knowledge and experience of this genre with him. We are looking forward to working these ideas into the Gouldn's make-up and to gainng new perpesctives in this rich world of the piano trio.'
Forthcoming concert dates with the new ensemble line-up include September 26th at Abbotsholme Arts Society and September 30th at the Swansea International Festival.