Richard Narroway receives the $20,000 award, enabling him to set up a post-COVID national performance tour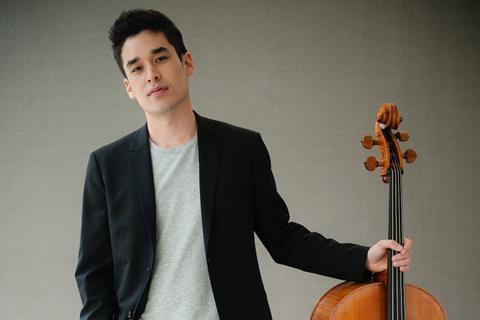 The 29-year old Melbourne cellist Richard Narroway has been announced as the winner of The Music Trust's 2020 Freedman Classical Fellowship, a $20,000 award which is offered to an exceptional instrumentalist annually.
A few months ago, Narroway returned to Australia after ten years in the USA, where he had studied at Juilliard and Northwestern, and worked as a performer, recording artist, and educator, playing in venues such as the Kennedy Center, Chicago Symphony Center, Koerner Hall, and the Sydney Opera House.
He had plans to re-establish himself in Australia but walked into the COVID crisis and soon, the Melbourne lockdown. The fellowship will enable him to set up a post-COVID national performance tour, performing Australian compositions.
Richard Narroway's tour will traverse the remote outback. He will perform ten Australian works for solo cello, some of them specially commissioned and some, existing works by celebrated composers Elena Kats Chernin, Ross Edwards, Peter Sculthorpe, and Carl Vine. Narroway also plans to film his journey and produce a documentary, perhaps for television broadcast.
Read: Australian cellist Richard Narroway wins Stulberg Competition
'This is such an incredible honour and a huge boost for me during what has been a rather strange time here in Melbourne! I am so grateful to the panel for believing in my playing and my vision,' says Narroway. 'This fellowship brings with it such a wonderful opportunity to carry out a project that I am deeply passionate about, and that will allow me to connect with all kinds of communities and audiences around the country.'
Normally, The Music Trust's Freedman Classical Fellowship competition would culminate at a deciding concert at the Sydney Opera House, where three finalists would be judged on their performances, as well as proposals for a creative project they would undertake should they be named as the Freedman Classical Fellow.
However, due to COVID-19 2020, finalists were assessed on their submitted recordings and proposed projects, as well as live video interviews.
'Richard Narroway displayed a maturity and sense of arrival in his career,' says Claire Edwardes, 2020 Freedman judge. 'We very much hope that this fellowship will provide him with the opportunity to arrive back onto the Australian scene, having lived overseas in recent years. He is certainly one to watch out for.'