South Korean cellist Yeong-Kwang Lee takes first place in all-Schumann final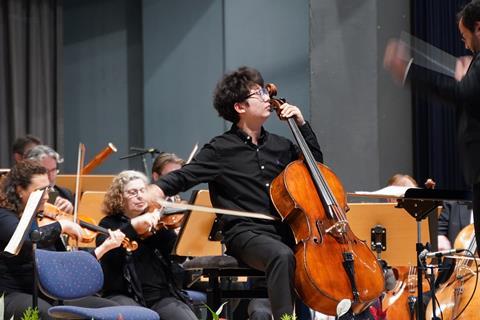 The International Instrumental Competition Markneukirchen has announced the prize winners of its 2019 cello competition.
They are
1st prize: Yeong-Kwang Lee (South Korea)
2nd prize: Friedrich Thiele (Germany)
3rd prize: Daniel Thorell (Schweden)
Each performed Schumann's Cello Concerto with the Plauen-Zwickau Philharmonic Orchestra conducted by Leo Siberski at the Musikhalle Markneukirchen.
Lee wins €7,000 in cash and concert engagement with Chursächsischen Philharmonie Bad Elster, as well as a BAM cello case, bow case and strings. Second and third prize win €5,000 and €3,500 respectively, along with cello accessories.
With Markneukirchen being the centre of German instrument making, there is also a new bow by a local master bowmaker on offer for the winner of the audience prize, to be announced at the prize winner's concert this evening.
Yeong-Kwang Lee was born in 1995 in Seoul, Korea, and currently studies at the Hanns-Eisler Musik Hochschule with Troels Svane. Previously he studied at the Korean National University of Arts having been admitted at the age of 15 under its Prodigy Programme to be taught by Myung-Hwa Chung and Hyungwon Chang.
The competition jury, headed by Maria Kliegel, comprised Yi-Bing Chu, Danjulo Ishizaka, Zdzisław Łapiński, Jelena Očić, Csaba Onczay and Marko Ylönen.