She receives a 1912 Riccardo Antoniazzi fine violin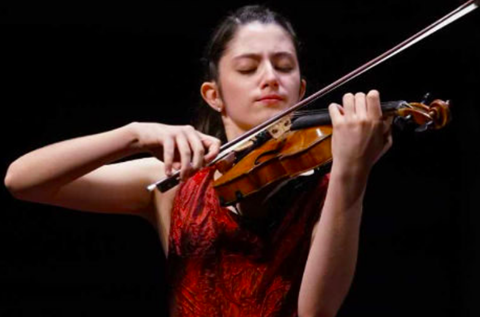 Following a final round in the Bashkortostan National Concert Hall, the 1st Prize at the Vladimir Spivakov International Violin Competition in Ufa, Russia has been awarded to Maria Dueñas.

The 15-year-old Spanish violinist receives a 1912 Riccardo Antoniazzi fine violin, valued at US $140,000.
Dueñas, who is studying at the Music and Arts University of the City of Vienna and at the University of Music and Performing Arts Graz with jury member Boris Kuschnir, is a former first prize winner at the Leonid Kogan, Georg Philipp Telemann, Zhuhai and Yankelevich International Violin Competitions.
2nd prize was awarded to 25-year-old Fyodor Beznosikov from Russia, who receives an 1848 violin by Jules Grandjon. The 3rd prize - a 2017 Igor Ulitsky violin - was awarded to 22-year-old Issei Kurihara from Japan.
The 2018 jury comprised: Mikhail Kopelman (jury chair), Vladimir Spivakov, Qian Zhou, Takashi Shimizu, Boris Kuschnir and Sergei Dogadin.