A stalwart of the NJSO for 28 years, Paul Harris, who described himself as living an ascetic life, has died after a brief ilness at the age of 64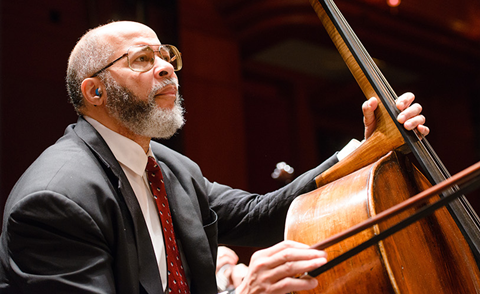 Paul Harris, whose 42-year career included the last 28 as principal bass of the New Jersey Symphony Orchestra, has died at the age of 64.
'Paul will be missed for his quiet, yet formidable, decades-long leadership of the bass section,' wrote Gabriel van Aalst, President and CEO of the orchestra.
'He was deeply committed to the power and impact of the NJSO's music in the lives of people of all ages and backgrounds.
'Paul will be profoundly missed by everyone whose lives he touched and I know we will all cherish his memory.'
Watch: Paul Harris and Soren Beech (cello) rehearse the Rossini Duo
Harris wrote his own obituary, which we reproduce in full here:
Paul Harris, Double bassist, passed away September 2, 2018 after a brief illness. Born November 20, 1953 in Dayton, Ohio to a very musical family, his mother Wanda, a classical pianist, despite having five children to care for displayed extraordinary musical gifts. His father Paul had a superb aesthetic sense and made available to all of his children the finest classical music, not only via recordings but by regular attendance to classical music concerts.
Excelling academically from his earliest youth, Paul had piano and cello lessons as well, but did not discover his true career passion until he tried a double bass at an instrument shop at the age of 11. It was from this experience that a door opened up to a world of imagination in which he knew he would unflinchingly endure any hardship or disappointment in order to use this broad and sensuous sound as light, shadow, and pulse in the great symphonic canvases.
He considered throughout his 42 year career that he had a responsibility to apply himself to his fullest, to set an example to others, and to always recognize the great privilege that fortune had bestowed in allowing him to make his living in this world playing the great classical masterworks.
Paul was Principal Bassist for 28 years with the New Jersey Symphony Orchestra conducted by Hugh Wolff, Zdenek Macal, Neeme Järvi, Jacques Lacombe and Xian Zhang. He also played and toured with the New York Philharmonic, conducted by Leonard Bernstein, Pierre Boulez and Zubin Mehta. He taught for many years at the Mason Gross School of the Arts, Rutgers University, lectured for the Manhattan School of Music's "Masters in Orchestral Performance Program" and performed and gave masterclasses at a number of noted music festivals.
Paul's deep sense of wonder about music and people led him to read biographies of dozens of performers and composers, luthiers and archiers. These all inspired him to learn about all of the instruments of the orchestra as expressions of the human psyche and condition. Not only through study, but by association with individual musicians was it revealed to him the extent to which hidden sensual desires combined with a compulsion to engineer a means to satisfy them in sound, are what drives the musician to continually seek to perfect his craft. One of Paul's richest experiences in this regard came in an opportunity to perform Giovanni Bottesini's 'Grand Duo Concertante' for violin and double bass with the great Erick Friedman, who's virtuosity, lyricism, rich coloratura sound contributed to a performance that was wonderfully received by all present; a cherished memory, especially for a double bassist!
The Plays and Sonnets of William Shakespeare, the Music Dramas of Richard Wagner and the works of numerous philosophers from Plato to Descartes and from Kant to Foucault were also passions for Paul. He was a devoted autodidact as much as he could be, leaving no stones unturned in the quest for enlightenment, and a cover to cover 'philological' reader.
Nearly 30 years ago he chose to live an ascetic life, giving up television and light entertainment for a voracious consumption of those timeless works. He designed, furnished and decorated a castle in his mind; a happy place of refuge from the paradoxes of normal human experience.
Paul left this world with gratitude, not only for the good fortune it bestowed upon him, but for many devoted friends. Dennis James, Karen Purpura, Tom DiCarlo, Benjamin Moylen, Mitchell Estrin, Lawrence Tamburri, Leo Grinhauz, Mischa Braitberg, Jean Adelhardt and Mark Perlman. He thanks all of you for your genuineness and hoped that you would understand that he would have done his best for any and all of you were the tables turned. All of these friends though they were not acquainted with one another, Paul regarded as his real family.
For his parents, Paul and Wanda of Dayton Ohio, his oldest sister Karen of Atlanta Georgia, sister Joy of New York, sister Marianne of Dayton Ohio and brother David of New York, Paul wishes you peace and many more years of active personal discovery.