The violinist becomes the 24th recipient of the award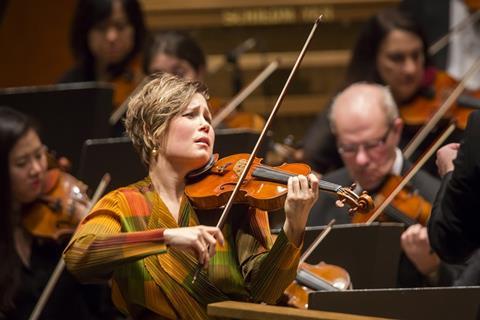 American violinist Leila Josefowicz has been announced as the 2018 Avery Fisher Prize recipient. The announcement was made yesterday evening on the stage of the David Geffen Hall, following Josefowicz's performance of the Stravinsky concerto with the New York Philharmonic.
The prize, which comes with a $100,000 cash payment, is awarded 'in recognition of musicians who represent the highest level of musical excellence and whose vision and leadership have taken classical music to an expanded level'.
Previous recipients, after cellist Lynn Harrell and pianist Murray Perahia shared the first prize in 1975, include Yo-Yo Ma, Midori, Joshua Bell, Gil Shaham, the Emerson and Kronos quartets, and a shared prize for violinists Sarah Chang, Pamela Frank and Nadja Salerno-Sonnenberg in 1999.
'I feel so privileged and honored to receive this prize,' Josefowicz said. 'My goal will continue to be to enlarge and enrich the repertoire of the violin by commissioning and performing works of the 20th and 21st centuries.
'My intention is to help create new masterworks for future violinists to study and perform for audiences. It is so necessary that the great works of today be heard. I celebrate this art form of contemporary music and would like to encourage audiences to listen with a sense of adventure, openness, and curiosity, and not rely too much on familiarity. I deeply thank the Avery Fisher Artist Program for its trust and appreciation.'
Josefowicz is a former Avery Fisher Career Grant recipient, as well as of a 2008 MacArthur 'genius' grant.