A new learning experience is now available worldwide to violinists thanks to the virtual platform tonebase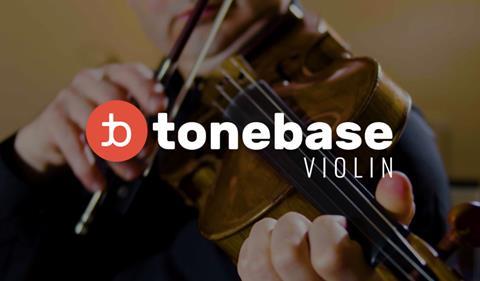 If you're a student of violin - and want to break through your technical barriers, expand your repertoire, and dive deeper into your passion for the instrument - a new learning experience is here. tonebase Violin is now live!
tonebase has been a leader in online music education since 2017, with groundbreaking platforms for Classical Guitar and Piano. On those platforms, thousands of members are already enjoying 1,000+ high-quality video tutorials and growing as musicians every day.
Now, since tonebase Violin launched on 11 July, new members will have access to an extensive digital library of lessons and courses on violin repertoire, theory, technique, and more at their fingertips.
Over 20 world-renowned violinists are currently teaching on tonebase, with many more slated for productions in the near future. They include longtime New York Philharmonic concertmaster Glenn Dicterow, Shanghai Isaac Stern Competition winner Nancy Zhou, multi-talented entertainer and soloist Aleksey Igudesman, Grammy Award-winner and Yale School of Music faculty Augustin Hadelich, Philadelphia Orchestra concertmaster and noted pedagogue David Kim, and trailblazing multi-genre virtuoso Gilles Apap, to name a few.
A vast range of repertoire and theory is covered on the platform, with a lot more content on the way. Members now have access to David Kim's orchestral excerpt tutorials on Mozart's Violin Concerto no.4 in D major, Prokofiev's Classical Symphony, and Mendelssohn's Scherzo from A Midsummer Night's Dream; Nancy Zhou's lessons on D.C. Dounis' time-tested exercises for hand position, bowing, and intonation; and Gilles Apap's explorations of 'old-timey' American bluegrass music.
In the words of our own head of violin Eric Silberger, an accomplished soloist, composer, and prize winner at the XIV International Tchaikovsky Competition:
'I'm excited for this next chapter with tonebase. I'll get to record priceless practical knowledge from the greatest minds in violin — insights that would otherwise be lost. I'll be part of creating amazing, never-before-seen content. And I'll also get to introduce you to elite artists of our time in a personal way, where you truly get to know them. Even more than you would in a master class! This is why tonebase is an exciting next step for me.'
All tonebase members are invited to weekly LIVE workshops and masterclasses with acclaimed violinists. You'll hear from top active players, in real time, on their personal approaches to practice and performance.
Members also have access to community forums where you can interact with fellow passionate violinists, participate in monthly challenges and concerts, and get feedback on your playing.
With tonebase Violin, you can now upgrade your skills and advance in your musical goals — all while being guided by the greatest minds in violin. It's time to bring the conservatory experience home!
Want to see what this can mean for your musicianship journey? Sign up today for a 14-day free trial to fully experience tonebase Violin.
Enjoy the following lesson clip where acclaimed violinist Stefan Jackiw shares his method for practicing scales. Join today to watch the full lesson!