Artists-in-residence at the University of Victoria since 1991, the group will perform its final concert in August 2023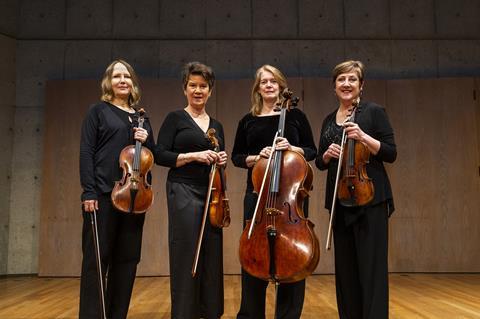 The Lafayette String Quartet (LSQ), the only all-female ensemble in the world still with all four original members, is planning its retirement. This follows more than 35 years of performances and three decades of teaching with the University of Victoria (UVic) School of Music in British Columbia, Canada.
The award-winning quartet, comprising of original founding members violinists Ann Elliott-Goldschmid and Sharon Stanis, violist Joanna Hood and cellist Pamela Highbaugh Aloni, will take their final bow as a group in August 2023.
'The Lafayette String Quartet and UVic have created musical history for over 35 years. Supporting the world's only all-female string quartet with its original members is a distinct rarity, and we are extremely proud of their accomplishments,' says acting vice-provost Susan Lewis who, as former dean of UVic's Faculty of Fine Arts and former director of the music school, has known the LSQ for 20 years.
'In addition to their internationally acclaimed performance history, the quartet has transformed the teaching of chamber music at UVic, training and mentoring a generation of over 400 string musicians and developing the master's of music in string quartet performance—the only program of its kind in Canada.'
With over a thousand performances worldwide and a dozen albums behind them, the LSQ has played a pivotal role within Greater Victoria's extended music community and Canada's chamber music legacy. Plans are currently underway for the LSQ's final season, which will include the performance and recording of five new commissions by female composers.
The LSQ also created the annual Lafayette Health Awareness Series to provide expert information on various health topics ranging from Covid and aging well to brain health and breast cancer—the latter of which both inspired the series and profoundly impacted the LSQ, following a 2001 diagnosis and treatment for one of its members.
Alexis Luko, director of the school, said, 'The sheer performance energy and powerful bond of these four women made a huge impression on me when I was an undergraduate in music here in the '90s. It felt like a real feminist moment. This group brought "woman power" to the highest levels of chamber music.'
Formed in 1986, the quartet became artists-in-residence at UVic in 1991. LSQ made their European debut in Munich unexpectedly due to the Chernobyl disaster, when fears of radioactive fallout prompted another string quartet to cancel a performance.
LSQ cellist Pamela Highbaugh Aloni said, 'We just thought we'd do this for two or three years, but here we are over 35 years later—and what an experience we've had. But great things have to stop at some point, and this feels like the natural time to finish.'
Watch the LSQ perform Beethoven String Quartet op.18/3 here: