Johann Strauss II's famous accellerando chosen 'to highlight the need to speed up vaccine delivery', says organiser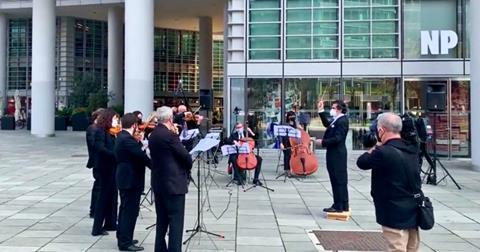 A group of musicians played Johann Strauss II's 'Accelerations' Waltz outside government buildings in Milan, calling on Italian authorities to speed up the rollout of the Covid-19 vaccine.
The performance, which took place in front of the city's Palazzo Lombardia, was organised by conductor Alberto Veronesi. 'We chose music that goes from being as slow as possible to very fast in order to highlight the need to accelerate the vaccine delivery,' he said.
Read 400 orchestral players take part in musical protest in UK's Parliament Square

Read Yuri Bashmet hopsitalised with Covid-19
Read How Covid-19 has affected Italian lutherie
According to data gathered by the Financial Times, Italy has administered 18.2 doses of Covid vaccine per 100 residents, compared to an EU average of 17.7. The UK and US figures are 54.8 and 48.8 does respectively.
The EU rollout, described by the World Health Organisation as 'unacceptably slow', has been beset by delays. Cases are rising sharply across the region, with new lockdowns recently imposed in countries including Italy, France and Poland.