Tobias Reifland was awarded first prize in the viola category, receiving €7,000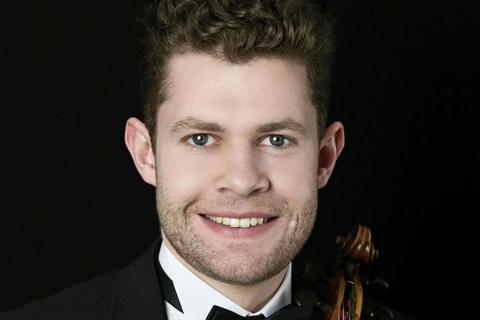 The international Max Rostal Competition, dedicated to both violin and viola players, has announced its 2019 winners.
First among the viola participants is 24-year-old German violinist Tobias Reifland, who also won the Audience Award and Prize of Friends of Young Musicians Berlin.
Reifland, who is currently studying with Roland Glassl at the Munich University of Music and has previously won top prizes at the Hindemith, Anton Rubinstein and Brahms International Viola Competitions, will receive €7,000.
Second and third prizes were awarded to 20-year-old Sào Soulez Larivière from France/Holland, who also won special prize for the best interpretation of the commissioned work, and to 29-year-old Sangyoon Lee from South Korea. They will receive €3,000 euros and €1,500 respectively.
No first prize was awarded in the violin category, but second prize of €3,000 was awarded jointly to Daniel Cho, Kyumin Park and Johanna Pichlmair. In addition, Park won the audience award, Cho won the Prize of friends Young Musician Berlin and Pichlmair won the special prize for the best interpretation of the commissioned work.
Based at the Berlin University of the Arts, (Universität der Künste Berlin), the competition invited 34 musicians to participate in its live rounds from 24 to 31 March 2019. This year's jury comprised: Tomoko Akasaka, Sophia Jaffé, Walter Küssner, Roberto Diaz, David Geringas, Philippe Graffin, Pavel Vernikov, Hartmut Rohde and Hagai Shaham.