The tenth edition of the quadrennial competition publishes list of 40 young players vying for $30,000 top prize and numerous opportunities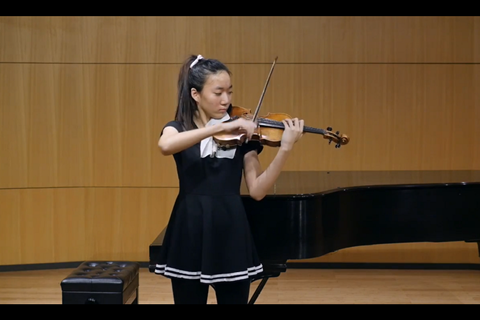 The International Violin Competition of Indianapolis has revealed the names of the 40 young violinists who have been accepted onto its tenth edition in September 2018.
The quadrennial competition, which builds towards final concerto performances with the Indianapolis Symphony Orchestra under Leonard Slatkin, offers its gold medallist a cash prize of $30,000, a Carnegie Hall Stern Auditorium recital debut, a CD recording, and website development and maintenance for four years.
Gold, silver and bronze medallists also receive career management and international concert engagements for four years and the opportunity to use the 1683 'Gingold' Stradivari violin until the next competition in 2022.
The participants are:
Misako Akama (Japan), 25
Joshua Brown (U.S.A.), 18
Aaron Chan (Hong Kong), 21
Stella Chen (U.S.A.), 25
Hannah Cho (U.S.A.), 23
Elli Choi (U.S.A.), 16
SongHa Choi (South Korea), 18
Arianna Dotto (U.S.A./Italy), 28
Ania Filochowska (Poland/U.S.A.), 24
Ioana Cristina Goicea (Romania), 25
Risa Hokamura (Japan), 17
Ariel Horowitz (U.S.A.), 22
Luke Hsu (U.S.A.), 28
Yiliang Jiang (China), 22
Mayumi Kanagawa (U.S.A.), 24
Karen Kido (Japan), 24
Fabiola Kim (U.S.A.), 27
Gyehee Kim (South Korea), 25
Stephen Kim (U.S.A.), 22
Alina Kobialka (U.S.A.), 21
Agnes Langer (Hungary), 26
Anna Lee (U.S.A.), 23
Shannon Lee (U.S.A./Canada), 26
William Lee (Taiwan), 19
Hyun Jae Lim (South Korea), 20
Richard Lin (Taiwan/U.S.A.), 27
Boson Mo (Canada/U.S.A.), 28
Fumika Mohri (Japan), 24
Yukino Nakamura (Japan), 22
Megumi Okaya (Japan), 26
Kyumin Park (South Korea), 21
Fedor Rudin (France), 26
Ji Won Song (South Korea), 25
Elly Suh (South Korea/U.S.A.), 29
Hannah Tarley (U.S.A.), 26
Saki Tozawa (Japan), 17
Jingzhi Zhang (China), 17
Galiya Zharova (Kazakhstan), 26
Yuanhui Zheng (China), 24
Stephanie Zyzak (U.S.A.), 24
Past laureates of the competition include Barnabás Kelemen, Augustin Hadelich, Simone Lamsma, Clara-Jumi Kang, Sergey Khachatryan, Frank Huang, Alina Pogostkina, Leonidas Kavakos and Ji Young Lim.