Soloist, teacher and the Royal Concertgebouw Orchestra's Haitink years concertmaster, dies at 94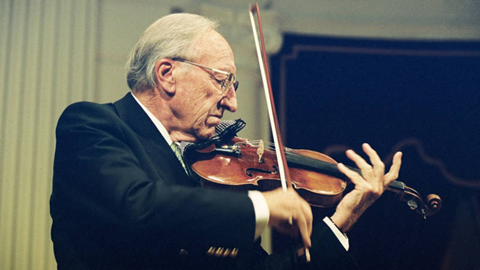 The Royal Concertgebouw Orchestra has announced the death of Herman Krebbers, issuing the following statement:
'It was with great sadness that we learned of the death, on 2 May 2018, of violinist Herman Krebbers. Our thoughts are with his family, friends and loved ones.
'Krebbers served as concertmaster of the Concertgebouw Orchestra from 1962 to 1980, during Bernard Haitink's years as chief conductor. He was also a soloist of great international renown, in addition to being an extremely passionate teacher, one who served as an example to generations of musicians. Many of Herman Krebbers' students went on to become members of the Concertgebouw Orchestra. His former students also include Vera Beths, Liza Ferschtman, André Rieu, Emmy Verhey, Saskia Viersen and Frank Peter Zimmerman. Always committed to supporting young musicians, professionals and amateurs alike, he acted as an adjudicator at competitions, both large and small, and established his own competition for amateur musicians.
'Krebbers was born in the Dutch city of Hengelo on 18 June 1923 and gave his first solo concert in Ede in 1933. He studied with Oscar Back, and from a very young age performed as a soloist with the Concertgebouw Orchestra in repertoire ranging from Bach to Badings. A musical friendship developed between Krebbers and fellow violinist Theo Olof (b. 1924, d. 2012), whom he had met through Back, and the two gave frequent performances as a duo. In 1950, they were jointly appointed principal violinist of the Residentie Orchestra and, in 1958, were both made Knights in the Order of Orange-Nassau.'
Olof, interviewed in The Strad in 2012, recalled his long collaboration with Krebbers:
'I think this may have been the very first time two people shared the role of concertmaster, though it's now quite commonplace in European orchestras. Herman and I had performed together as a violin duo many times, before Willem van Otterloo, the orchestra's chief conductor, asked us to take up the post jointly.
'Practically speaking, the wonderful part of sharing the job was the free time it gave us both, to grow as musicians and to perform in recitals and solo concerts.
'I also think our shared position was good for the section and the orchestra. Although Herman and I have very different personalities and temperaments, we would make more or less the same technical demands on a section, as our training was so similar.
'We had both been students of Oskar Back – our friendship began when we were tasked with mastering the Bach Double from memory. Since then, I think we must have performed together more than a thousand times.'
The Concertgebouw's obituary continues:
'In 1962, Krebbers was appointed principal violinist of the Concertgebouw Orchestra, with Olof again sharing the post with him from 1974. Krebbers also taught at the Amsterdam Muzieklyceum (now the Conservatorium van Amsterdam) for nearly half a century and remained an active chamber musician. An unfortunate fall nearly ended his career in 1979. After many years of therapy, he would eventually go on to perform again, although he focused mainly on teaching and adjudicating.
'Upon relinquishing his teaching position at the Conservatorium van Amsterdam in 2001, he was awarded the Silver Medal of the Municipality of Amsterdam. It was only in 2009 that Krebbers, then aged 86, decided to retire permanently.'