American takes first prize at the Concours musical international de Montréal with performance of Shostakovich Violin Concerto no.1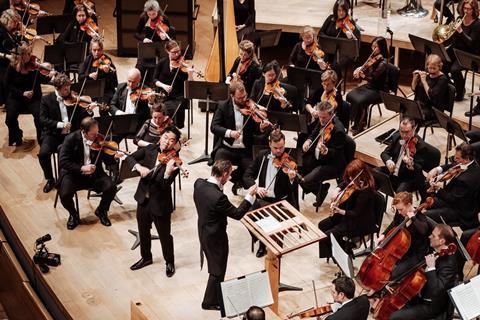 The jury of the Montreal International Music Competition has named 22-year-old American violinist Hao Zhou winner of its 2019 violin competition. Held at the city's Maison symphonique, the final round saw six players perform a concerto of their choice with the Orchestre symphonique de Montreal under British conductor Alexander Shelley.
Zhou receives a cash prize of CA$30,000, a CA$50,000 career development grant, a new violin and bow by the competition's makers' forum, a residency at Canada's Banff Centre, and a performance as part of the 2020 New Generation Festival, held in the Italian city of Florence.
The CA$15,000 second prize was won by Johanna Pilchmair, 29, from Austria, while third prize went to Japanese-German 25-year-old Fumika Mori.
As winner of the prizes for the best performance of a work by Bach and the best account of the compulsory piece, Stand Alone, by young Canadian composer Michael Oesterle, Pilchmair received an additional CA$1,500 and CA$2,000 respectively.
Anna Lee, a 24-year-old violinist from the US and South Korea, took home the CA$2,500 award for the competition's best sonata performance, while Zhou received another CA$5,000 as winner of the audience prize, chosen by popular vote.
The three unranked finalists – Elli Choi, Christine Lim and Anna Lee – each took home CA$3,000.
Zhou is a student at the Colburn Conservatory of Music, CA, US, where his teacher is Martin Beaver, the Canadian former first violinist of the Tokyo String Quartet.
'Martin took part in the competition nearly thirty years ago,' Zhou told The Strad, 'and he convinced me to have a go this time around. Funnily enough, the Mozart Sonata no.35 I performed in the semi final was one of the pieces he played back then, too.'
Zarin Metha, former president and executive director of the New York Philharmonic, chaired a jury comprising Pierre Amoyal, Kim Kashkashian, Borish Kuschnir, Cho-Liang Lin, Mihaela Martin, Barry Shiffman, Dmitry Sitkovetsky and Pavel Vernikov.