To mark the release of The English Concert's new Handel recording, the group's chief executive tells us how playing the viola has shaped his management style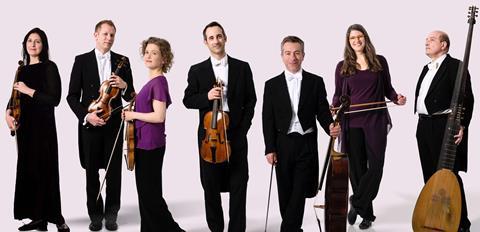 When The English Concert appointed a new CEO in 2019, they chose from within their own ranks. The winning candidate was Spanish violist Alfonso Leal del Ojo, who had already been the group's principal for nearly 15 years and, as he explains, had more than a decade's experience of running a tight early music ship.
'After I graduated from the Guildhall I move to Dublin to join the Irish Baroque Orchestra,' he says. 'Although the orchestra had a lot of support it didn't have very much money,' he explains, adding that its woes were compounded by financial mismanagement. 'Eventually the manager was dismissed and the job was advertised, but it was so badly paid that no one applied.'
Leal del Ojo had no experience of orchestral management but had a long-running interest in the business side of the music industry and decided to apply. 'They took a chance on me but things were bad when I took over,' he says. 'The orchestra had a debt of €250,000 and my first job was to come up with a credible plan to reduce it.'
After two and a half years, Leal del Ojo left the IBO become chief executive of the Dunedin Consort and, a decade after that, of The English Concert.
'There's an inevitable change of power dynamic,' he says of managing a group with whom he already had such a close relationship. 'It can make certain conversations tricky, especially if you're delivering bad new to colleagues who are also your friends. On the other hand, they know I perhaps understand their concern more fully than someone who isn't a player as well as a manager.
Read Why we should all be violists
Watch The English Concert at King's Place
Read Technqiue: How should we articulate Baroque music on modern instruments?
'I don't have any formal management training but what I do have is an in-depth knowledge of the sector. I understand the players and the music as well as the financial pressures and management structures that influence them.'
Leal del Ojo points to other player-manages like Clive Gillinson, who was a cellist in the London Symphony Orchestra before becoming its manager (and then manager of Carnegie Hall), and European Union Youth Orchestra CEO Marcus Marshall, who as a violinist was a founding member of the Academy of Ancient Music. But does being a violist give him a unique perspective?
'The parts we violists play are often there to support the other instruments, particularly in Baroque music,' he says. 'Playing the viola is about compromising and being supportive, there's often an element of marrying together what's going on at the top and at the bottom. It requires a non-confrontational approach.
'Although you're doing an important job, people don't always notice you're there. Management is the same – the audience isn't interested in who the manager of an ensemble is, they just want them to sound their best.'
Find out more about The English Concert's new recording of Handel's Rodelina here.