Violinists between the ages of 18 and 28 are invited to apply for the chance to play a violin made by the renowned luthier for two years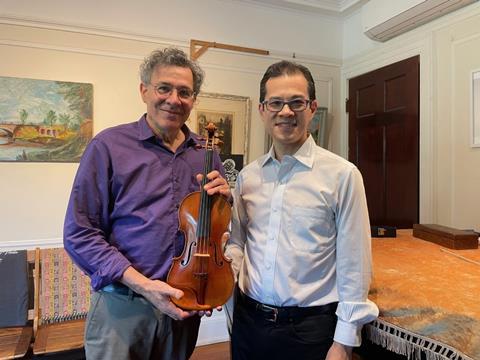 Friends of Musique et Vin (FOMV) is proud to present a unique opportunity for violinists between the ages of 18 and 28 to compete for the use of a violin by renowned luthier Sam Zygmuntowicz for the next two years.
Friends of Musique et Vin (FOMV) is the American affiliate of the Musique et Vin au Clos Vougeot festival, co-founded in 2008 by Metropolitan Opera concertmaster David Chan and legendary wine professionals Bernard Hervet and Aubert de Villaine, in the Burgundy region of France. Celebrating its 15th season this summer, the festival has attracted the world's leading artists including Yo-Yo Ma, Joyce DiDonato, Jean-Yves Thibaudet, Matthew Polenzani, Emmanuel Pahud, Menahem Pressler, Cho-Liang Lin, Gary Hoffman, Marlis Petersen, Ildar Abdrazakov, and many others.
Zygmuntowicz violins are prized for their rich, powerful sound and extraordinary craftsmanship. They are highly coveted even by leading professionals; but for an aspiring young artist, it is a true gift and privilege to play one. As America's most celebrated violin maker, Mr. Zygmuntowicz often commands a waiting list of several years, but he produced the current instrument in 2021 for the express purpose of awarding its use to a young artist through FOMV.
Listen to David Chan play excerpts from Tchaikovsky's Violin Concerto and Massenet's 'Meditation' from Thaïs on the 2021 violin by Sam Zygmuntowicz:
The first round of auditions is to be held via video recordings, to be submitted online by 31 March. The jury will evaluate the video submissions and decide no later than 10 April which candidates will advance to the next stage.
The final round, limited to a maximum of four (4) candidates, will be held live in New York City on Friday 28 April at the Rose Studio in Lincoln Center.
The jury for both the video and live rounds comprises the following distinguished artists:
David Chan (concertmaster, Metropolitan Opera)
Rafael Figueroa (principal cello, Metropolitan Opera)
Frank Huang (concertmaster, New York Philharmonic)
In addition to the jury, a small audience consisting of FOMV's Advisory Board and their guests will be in attendance at the final round on 28 April.
For more details about audition requirements or to apply, please email fomv.audition@gmail.com. There is an application fee of $75.