The fellowship aims to find Australia's most creative classical musician under 30, with four finalists in the running for the $21,000 prize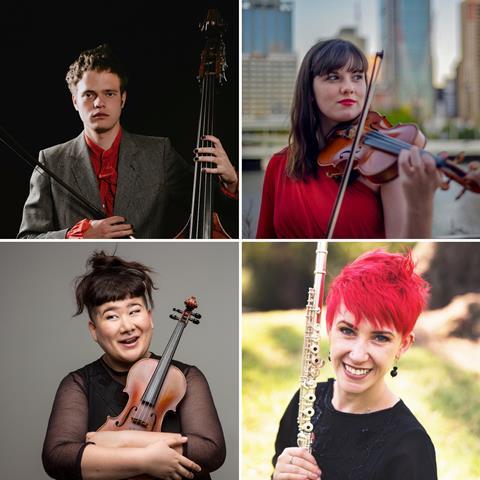 After an Australia-wide search, four finalists have been decided for the 2021 Freedman Classical Fellowship. They are:
Double bassist Will Hansen (24), New South Wales
Violist Molly Collier-O'Boyle (27), Victoria
Violinist Kyla Matsuura-Miller (28), Victoria
Flautist Eliza Shephard (28), Victoria.
This year, interstate travel permitting, the AU$21,000 prize will be awarded on Friday 19 November at a deciding live concert before judges Penny Lomax, Tamara-Anna Cislowska and Véronique Serret at the Sydney Opera House. The finalists have been chosen for their proposed innovative, imaginative and resourceful musical projects, with projects largely focused on the commissioning of new Australian work and support of home-grown artists and themes.
Last year's winner was cellist Richard Narroway, awarded remotely due to Covid restrictions. Past Fellows include Genevieve Lacey, William Barton, Joseph Tawadros, Claire Edwardes and Eugene Ughetti.
Conceived by Laurence Freedman AM and Dr Richard Letts AM, the Freedman Classical Fellowship is an award offered annually to Australian classical musicians aged up to 30 years. Each nominee must submit recordings of their musical performance and a description of a career-building project which they will carry out with the support of the prize.
Read: Journey through the Australian outback with cellist Richard Narroway
Read: Melbourne cellist wins Freedman Classical Fellowship during lockdown
Read: The Suzuki method: A visionary with a violin