Birmingham Conservatoire based competition in second edition names five young violists competing in Friday's final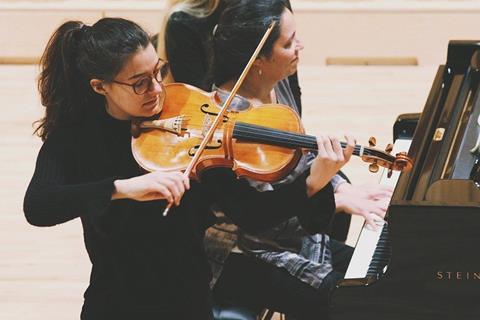 The Cecil Aronowitz Viola Competition, hosted by the Royal Birmingham Conservatoire, Birmingham City University and the British Viola Society, has announced the five competitors going forward to the 24 November final.
The competition, which began on 18 November, accepted 26 young violists from a total of 69 applications from 20 countries.
The five finalists are:
Lara Albesano: born in Italy in 1996 and studied at the Turin Conservatoire in 2004, initially as a violinist. Following a masters at the Amsterdam Conservatoire she is currently studying at the 'Reina Sofia' Music School in Madrid with Nobuko Imai and Wenting Kang.
Sào Soulez Larivière: born in 1998 in Paris and started as a violinist at the Yehudi Menuhin School at the age of 8 – he is a recent convert to the viola, having only taken it up full time last year. He is currently studying at the Hochschule für Musik Berlin with Tabea Zimmermann.
Emma Wernig: 18, from Los Angeles, currently studying at the Colburn Conservatory with Paul Coletti and has taken part in the Heifetz Institute and IMS Prussia Cove. She has a number of competition successes to her name already, both as soloist and chamber musician.
Yue Yu: born in 1997 in China and studied at the Xinghai Conservatory of Music's affiliated school and went on to win a scholarship to the Birmingham Conservatoire where she now studies with Louise Lansdown.
Silas Zschocke: born 1997 in Germany, began violin lessons aged six, and switched to viola aged eleven. He has studied with Tabea Zimmermann at the Hochschule für Musik Berlin since 2015 and taken part in the Verbier Festival Academy and is a member of the LGT Young Soloists.
The competition's first place comes with a cash prize of £5,000, a record deal with Champs Hill and a further prize from the City of Birmingham Symphony Orchestra, to be confirmed. The second and third prizes are £3,000 and £1,000 respectively, while special prizes include a viola bow by Jackson Fornaciari worth £950 for 'the most promising competitor 18 years and under' and a bow by Pierre Guillaume worth £5000 donated by Bishop Instruments and Bows for 'the most outstanding performance of a sonata' in the semi-finals.
Cecil Aronowitz (1916-1978) was a South African viola player who settled in Britain and was much celebrated as a soloist, chamber musician and teacher, and was the Royal Northern College of Music's first head of strings.