The decision has been announced by BBC Radio 3, the National Centre for Early Music (NCEM) and the Royal College of Music (RCM)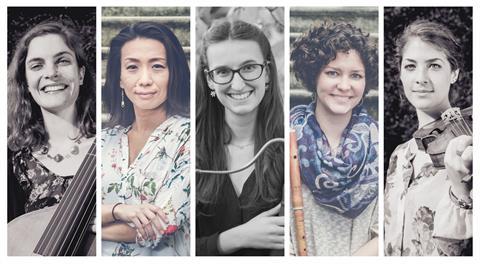 BBC Radio 3, the National Centre for Early Music (NCEM) and the Royal College of Music (RCM) have announced Ensemble Molière as the first New Generation Baroque Ensemble from October 2021 for two years.
The new scheme aims to showcase and nurture exceptional UK-based ensembles in the early years of their professional careers working in the baroque sphere. It will support them to new heights of professionalism and artistry over a two-year period using the range of expertise, performance and recording opportunities available through each of the partner organisations. A new group will join the scheme in 2023 to begin a new two-year programme, helping to encourage UK Baroque ensembles of the future, supporting artists at a critical stage in their careers.
Comprising five musicians performing on historic instruments, Ensemble Molière has established a reputation across the UK and Europe. Known for its distinctive combination of instruments – flute, violin, bassoon, viola da gamba/cello and harpsichord - as well as memorable and creative programmes from the repertoire of the 17th and 18th centuries, the Ensemble has already performed at many of the leading Baroque and Early Music festivals and has won significant acclaim.
The ensemble said, 'We are thrilled and honoured to be appointed the first ever BBC New Generation Baroque Ensemble, and to become part of the New Generation family. We are looking forward to collaborating with the wonderful team from three organisations - BBC, RCM and NCEM - as well as to the opportunities and experiences we will enjoy on the scheme, including live performances and broadcasts. It will be a fantastic springboard for Ensemble Molière, and will help us reach the next step as a group. We are very grateful to the New Generation Baroque Ensemble team for their support!'
Read: Historically informed performance: Baroque revolution
Read: How should we articulate early music on modern instruments?
Read: Top US string quartets receive commissioning grants from Chamber Music America