Student of Felix Salmond, Bernard Greenhouse and Pablo Casals who had long career as soloist, chamber musician and educator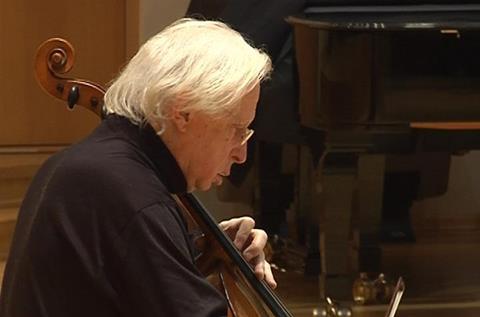 The Israeli cellist and pedagogue Uzi Wiesel, who studied at the Academy of Music in Tel Aviv and returned to teach there for over 30 years, has passed away aged 92 near Canberra, Australia, where he moved later in life to be near his son.
Born in Tel Aviv in 1927, Wiesel studied at the Academy of Music before moving for postgraduate studies to the Juilliard School in New York, where he was taught by Felix Salmond and Bernard Greenhouse. He was awarded the Piatigorsky Prize in 1953 and went on to study with Pablo Casals in southern France.
He won prizes in 1957 at the International Competition in Moscow and 1961 at the International Pablo Casals Competition and performed as a soloist internationally. He was a founding member of the long-lived Tel Aviv Quartet.
He was appointed professor at the Academy of Music in Tel Aviv in 1965 and remained in post until 1997, and was visiting professor in conservatoires around the world, particularly the Germany and Australia and the US, where the Jacobs School of Music at Indiana University named him 'Chevalier du Violoncelle' in 1996. He also served as president of the jury at the Emanuel Feureman Cello Competition in Berlin.
Along the way students included Hillel Zori, Tamás Varga, Gavriel Lipkind, Uri Vardi and Leonard Elschenbroich, who recalled his teaching style in a recent interview with The Strad:
'The first piece I ever played for Uzi Wiesel, who I studied with after Yehudi Menuhin School, was the Brahms E minor. He spent a lot of time working on it, specifically on what he called "opening me up": he felt I knew what I wanted to convey, but it remained locked in my head.
'We worked on making the performance more physical; he would tell me to feel my back more when I played, and touched my shoulders and upper arm and helped me move with the arm. I think it gave me a better sense of extroversion, which helped to bring out both the sound and the emotion.'
Wiesel contributed a Masterclass on Beethoven's op.102 no.1 for The Strad in 1991 which he opened by saying he would not write a 'recipe for how to play this sonata'. Instead, 'my aim is to stimulate musical ideas and to suggest the technical means to project them. There are many choices: every artist chooses his personal ones.'
The same article ended with more wise words: 'Try to think in long lines; don't play notes. Composers wrote ideas. But work the details carefully; the shades, nuances and phrasing which build up into these lines. Developing personal expression convinces best, because it is your own.'
'