Eighteen-year-old Menuhin School student gains place in semi-final playing works by Lutoslawski, Brahms and Stravinsky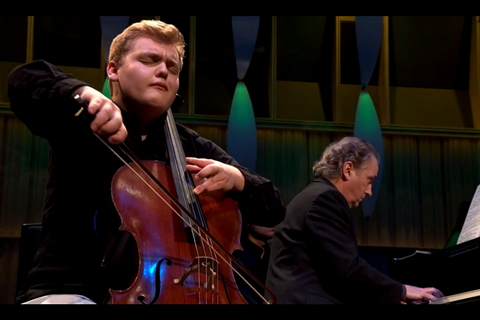 Cellist Maxim Calver, 18, from Norfolk, UK, has won the strings category final of BBC Young Musician 2018 and will be joining the other category winners in the semifinal stages of the competition.
The other string finalists were: violinist and former National Youth Orchestra leader Elodie Chousmer-Howelles (19); double bassist Will Duerden (17); violinist Stephanie Childress (18); and guitarist Torrin Williams (17).
Cellists have had a good track record in the competition, with Sheku Kanneh-Mason winning the last edition in 2016 and Laura van der Heijden in 2012. Previous cello winners also include Guy Johnston (2000) and Natalie Clein (1994).
The judging panel for the strings section was chaired by composer Kerry Andrew and featured double-bassist Leon Bosch, violinist and past competition winner Jennifer Pike, and guitarist Miloš Karadaglić.
The strings category final is available to view on BBC iPlayer from within the UK. The semifinal will be broadcast on BBC Four on Friday 11 May and the final on Sunday 13 May.