Eighteen-year-old Menuhin School student will perform in televised final on Sunday alongside saxophonist and pianist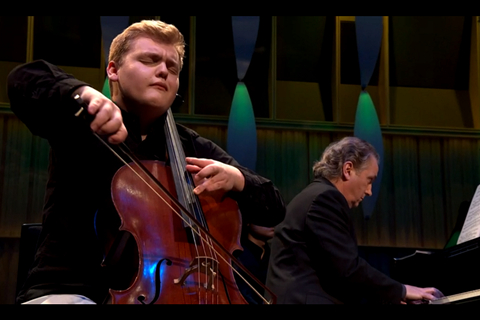 Cellist Maxim Calver, 18, from Norfolk, UK, has progressed to the final of BBC Young Musician 2018, having performed with the four other category winners in the semi-final on Friday evening.
The other semi-finalists were percussionist Matthew Brett, saxophonist Rob Burton, trombonist Isobel Daws and pianist Lauren Zhang.
Calver, Burton and Zhang are going through to the final on Sunday (13 May) at Birmingham's Symphony Hall. It will be broadcast that evening on BBC Four and Radio 3.
They will perform:
Calver: Tchaikovsky, Variations on a Rococo Theme, op. 33
Burton: Paul Creston, Concerto for alto saxophone, op. 26
Zhang: Prokofiev, Piano Concerto no.2, op. 16
The judging panel will be chaired by composer Kerry Andrew alongside conductor Alpesh Chauhan, cellist and former BBC Young Musician Natalie Clein, saxophonist John Harle and pianist Sunwook Kim.
Cellists have had a good track record in the competition, with Sheku Kanneh-Mason winning the last edition in 2016 and Laura van der Heijden in 2012. Previous cello winners also include Guy Johnston (2000) and Natalie Clein (1994).
Maxim Calver, already an accomplished soloist and chamber musician, entered the Yehudi Menuhin School at the age of eight and studies there with Thomas Carroll. He plays a 1906 Alberto Aloysius cello.
The semi-final is available to view on BBC iPlayer from within the UK.