The South Korean violinist talks to Andrew Mellor about studying in the US and her experience so far of life as a professional soloist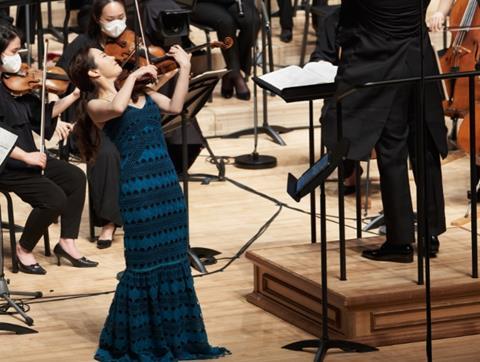 The following extract is from The Strad's June issue cover feature profiling the rising star violinist Bomsori Kim. To read it in full, click here to subscribe and login. The June 2021 digital magazine and print edition are on sale now
In 2014 Bomsori enrolled at Juilliard, where her principal teachers were Sylvia Rosenberg and Ronald Copes. 'It was a confusing time,' she admits. 'I had some belief in myself but had never lived alone and was not really ready for the language – I actually had a hard time understanding what people wanted me to do.
The mentality was so different from what I was used to in Korea. I was able to interact with all the teachers, including chamber music coaches, and they all seemed to be saying different things about the same pieces – do this, do that. I eventually realised that they wanted me to find my own way, and that I had to try it, feel it and experience it on stage. That is how I got through those times.'
Read: Bomsori: Professional life is a lot harder than endless competitions
Read: Bomsori: 'I always thought, "I am just not brilliant enough for Wieniawski"'
Rosenberg, Kim confirms, is as strict as her reputation suggests. 'It is not acceptable to her if you don't know every one of the score's indications.' That approach appears to have seeped into the young Korean's musical consciousness. Leaning into the camera on our Zoom call, with a steely gaze but a frequent laugh, she refers again and again to 'text and context' – the Rosenberg-derived theory that you can't understand one without the other, that 'loving eyes will find more' in the detail of the score, and that interpretation is built not only on instincts and feeling but on extreme familiarity with the score itself.
This article was published in the June 2021 Bomsori issue

The Korean violinist on graduating from the competition circuit to become an international soloist - and why singing is at the heart of her playing. Explore all the articles in this issue . Explore all the articles in this issue

More from this issue…