Starting on 10 August this year, the 36 young violinists will be competing for the biggest prize pot available in any competition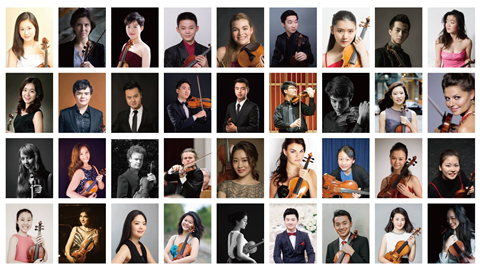 The Shanghai Isaac Stern International Violin Competition yesterday announced the 36 candidates chosen by the pre-selection jury to take part in the live rounds beginning in August.
In total, 174 young violinists applied to enter the competition for a chance to win its $100,000 top prize, $50,000 second prize or $25,000 third prize. A further $10,000 prize is offered for the best performance of a Chinese work – this year Qigang Chen's La joie de la souffrance.
It is the biennial competition's second editition – the first was won by Japanese violinist Mayu Kishima in 2016.
The candidates are:
Yurina Arai, Japan
Marie Bégin, Canada
Jiayi Chen, China
Yige Chen, China
Ellinor D'Melon, Jamaica
Hiu Sing Fan, Hong Kong, China
Mone Hattori, Japan
Shucong He, China
Valerie Kim, United States
Alina Kobialka, United States
Miyeon Lee, South Korea
William Lee, Taiwan, China
Quanshuai Li, China
Po-Yu Lin, Taiwan, China
Ruifeng Lin, China
Zhen Liu, China
Petr Lundstrem, Russia
Ashley Park, United States
Diana Pasko, Russia
Eva Rabchevska, Ukraine
Arsenis Selalmazidis, Greece
Dmitry Smirnov, Russia
Ji Won Song, South Korea
Olga Šroubková, Czech
Sophia Su, United States
Anna Tanaka, Japan
Yun Tang, China
Chang Yuan Ting, Canada
Diana Tishchenko, Ukraine
Chieri Tomii, Japan
Jacqueline Tso, United States
Jiazhi Wang, China
Runyin Zhang, China
Alex Zhou, United States
Jin Zhou, China
Nancy Zhou, United States
The violinists will enter the quarter-final rounds starting on 10 August and progress through semi-final and finals over the course of three weeks.
Watch: Mayu Kishima gives Shanghai Isaac Stern Violin Competition winning performance