Violinist of the Pacifica Quartet Austin Hartman writes about how shining a light on marginalised voices in American history provided inspiration for their latest album with clarinetist Anthony McGill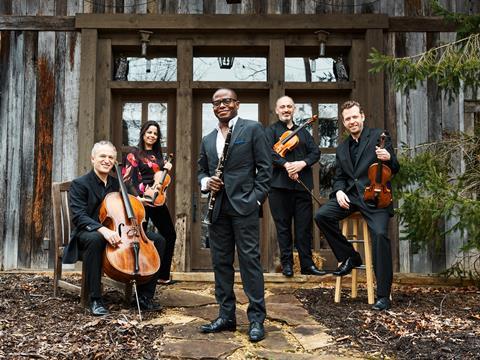 Discover more Featured Stories like this in The Strad Playing Hub
'My life is one billion percent better today than I could ever have dreamed,' said composer Ben Shirley, as he recounted for our quartet on a pandemic-era Zoom call detailing how music and marathon training helped inspire his dramatic story of recovery over addiction and homelessness while living in Los Angeles's notorious Skid Row. His inspirational journey, told in conjunction with three powerful stories from the American experience, creates the musical narrative for our most recent recording project, American Stories, which we recorded in collaboration with our dear friend and venerable colleague, clarinettist Anthony McGill.
Featuring clarinet quintets composed in the last decade by Richard Danielpour, James Lee III, Ben Shirley, and Valerie Coleman, this album weaves together a unique narrative exploring consequential themes of our time, including racially motivated hate crimes, reclassifications of diverse ethnicities, celebrations of recovery and natural beauty, and highlights from the life and successes of American icon Muhammad Ali. We share these stories with the intent of 'empathising with each other, being present in our shared humanity… and embracing the beauty that lies in the diversity of sound and story' (Anthony McGill, CD liner notes).
American Stories opens with a haunting lament from Richard Danielpour's Four Angels, which pays tribute to the four young girls whose lives were prematurely ended in the 1963 bombing of a Baptist church in Birmingham, Alabama at the hands of the Ku Klux Klan. Following this lyrical opening is a rude interruption of strident chords and arpeggiated flourishes in the clarinet, highlighting Danielpour's conception of the work as a means of bringing attention to the destructiveness of systemic racism as well as a reminder of the 'insidious and malevolent nature of such behaviour and such crimes.' The music in the final section demonstrates the work's equally important theme of being a 'small testament to the choice for a better path, one consisting of the compassion and understanding that we must have for one another,' and it is on that note that this work comes to its consonant resolution.
Citing inspiration derived from other meaningful works of art, including Nathaniel Dett's The Ordering of Moses, William Dawson's Negro Folk Symphony, and various 18th-century paintings from An Emblem of America, housed in London's British Museum, James Lee III writes of his desire to re-examine historical aspects of Indigenous Americans in his Quintet for Clarinet & String Quartet. Composed in four movements titled Forgotten Emblems, Awashoha, Alas, my identity…, and Celebrated Emblems, the opening two movements feature music and sounds from Indigenous cultures including an inverted shofar theme, a musical motive imitating an Indigenous ceremonial dance, as well as a delightful scherzo derived from the Choctaw word 'Awashoha' meaning to 'play somewhere.' The third movement serves as a sorrowful threnody to the reclassification of many Indigenous peoples following their relocation in the United States, while the final movement is brought to a celebratory close with a dance featuring many of the individuals depicted in An Emblem of America.
High Sierra Sonata, composed by Ben Shirley and commissioned in 2020 by Anthony and our quartet, depicts highlights from Shirley's journey through addiction to recovery, a story that is also captured in the award-winning 2017 documentary Skid Row Marathon. At the centre of both the film and this piece is Shirley's camaraderie with members of a running club, comprised of fellow residents of the Midnight Mission (a homeless shelter located in Los Angeles's Skid Row), who all run together with the goal of overcoming addiction through daily training for elite international marathons.
The composition picks up Shirley's story following an invitation from a friend who shared a similar journey of recovery while at the mission and invited him to serve as a volunteer on the course of the Bishop High Sierra Ultra Marathon in the Eastern Sierras. Inspired by the grand scenic vistas, as well as the region's quick dramatic shifts in weather, Shirley composed High Sierra Sonata as a musical metaphor for life, sharing that 'the weather, much like life, can change on a dime…. But regardless of the circumstances beyond my control there in the Eastern Sierras, the majestic beauty, the camaraderie amongst volunteers, the perseverance of the runners, and a decade-long friendship rooted in a shared experience remained as rock solid as the mountains we stood on.'
Valerie Coleman, who grew up in the same community as the Louisville Lip, celebrates a shared hometown in a poignant musical homage to 'The Greatest' boxer of all time, Muhammad Ali. As captured in her clarinet quintet Shotgun Houses, the story of this iconic American hero is told in three installments (or movements) detailing very specific snapshots from the champion's life. Movement one, also called Shotgun Houses, refers to the architectural style of these West Louisville houses (often an indication of poverty) and musically depicts the life of the young Cassius Clay. The listener heads to Ali's boyhood home on Grand Ave (the second movement) and experiences a simple ballad that Coleman describes as, 'Ali with his mother showing a kiss or embrace, and it is clear to see the pure love from that innocent child that remained with the champion throughout his life.' Following this nostalgic snapshot, the listener is quickly brought ringside as Muhammad Ali begins his training with a jagged rhythmic introduction in the cello line that climaxes to his 'float like a butterfly, sting like a bee' fighting style, ultimately earning him a gold medal in Rome 1960 (the title of the final movement).
As the last chords of this stunning tribute to Ali brought our recording session to a close, we were struck by the remarkable feelings of solidarity that we experienced not only with our musical colleagues, but also with the individuals whose stories and legacies we had the privilege of sharing. For all of us, recording this album was a stirring reminder of the powerful impact we can have by sharing our collective stories and reflecting on the positive contributions that each of us makes when working together to create an even better world for our fellow storytellers.
Listen to American Stories on Spotify here. The Pacifica Quartet and Anthony McGill will appear in concert at the University of North Carolina School of the Arts in Winston-Salem, NC on 21 February and the Wallis Center in Los Angeles on 23 February.