Biennial Jürgen Ponto Foundation award also includes concerts at its four partner festivals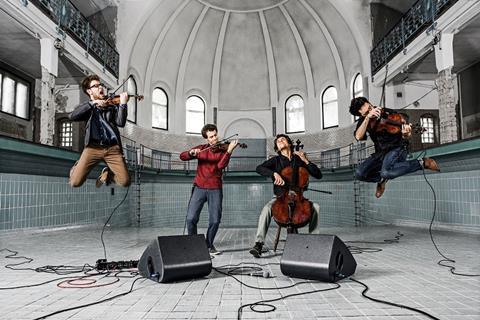 The fourth biennial Jürgen Ponto Foundation prize for chamber music, worth €60,000, has been awarded to the Vision String Quartet from Berlin. The award, which also includes performing opportunities at Beethovenfest in Bonn, the Heidelberg Spring Festival, the Schleswig-Holstein Music Festival and the Kissinger Summer Festival, is given every two years in support of a professional young ensemble which has already won an international competition.
In 2016 the Vision String Quartet won first prize and all the special prizes at the Geneva International Music Competition, also first prize at the Felix Mendelssohn Bartholdy Competition in Berlin and the audience prize of the Mecklenburg-Vorpommern Festival. In June 2017, it was also awarded the Würth Prize.
The jury panel's citation states: 'We have been closely monitoring the Vision String Quartet over the past few years. Now, we believe it is the right time to honour the impressive skills of the ensemble and recognise the development of its very own artistic style.
'We consider its equal juxtaposition of classical and popular music as a promising way to gain new audiences for the genre of chamber music.'
The Vision String Quartet comprises Jakob Encke and Daniel Stoll (violins), Sander Stuart (viola) and Leonard Disselhorst (cello). They completed their chamber music studies with the Artemis Quartet in Berlin and Günter Pichler at the Escuela Superior de Música Reina Sofía in Madrid, with further input from Heime Müller, Eberhardt Feltz and Gerhard Schulz and attended masterclasses at Jeunesses Musicales, ProQuartet in France and the Villa Musica Rheinland-Pfalz Foundation
The previous winners of the Jürgen Ponto Foundation prize are the Amaryllis Quartet (2012), Schumann Quartet (2014) and Aris Quartett (2016).