Plans include the Foundation's first virtual chamber music weekend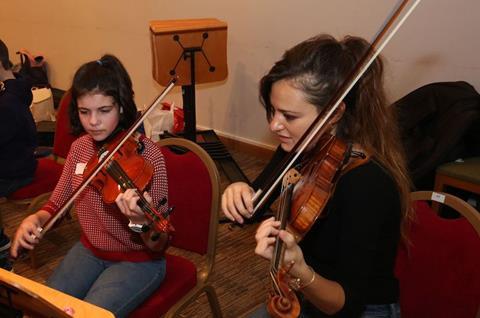 Following a busy spring and summer, the Benedetti Foundation has announced its activity for September.
This includes the Virtual Mini Sessions, short, focused workshops designed to provide in depth and detailed exploration on a wide variety of topics, which were held for the first time throughout July and August.
There will be workshops for young people, music students, recent graduates, instrumental teachers and adult learners. These workshops will be in the form of practical sessions, concentrating on technique, physicality and wellbeing, as well as discussion sessions and a focus on professional and personal development for students and teachers.
Among the topics covered are bow hold, bow strokes, scales strategies, improvisation, conducting and ensemble coaching and performance anxiety.
Prospective participants can sign up for individual workshops at www.benedettifoundation.org/mini-sessions. There is a small admin fee to participate.
In addition, the Foundation presents its first virtual chamber music weekend on 26 and 27 September, featuring the Kaleidoscope Chamber Collective musicians: Tom Poster (piano), Elena Urioste (violin), Savitri Grier (violin), Rosalind Ventris (viola), Laura van der Heijden (cello) and Joseph Conyers (double bass).
Read: Benedetti Foundation announces online daily music lessons
Read: Benedetti Foundation launches the Virtual Benedetti Sessions
Read: The Benedetti Foundation releases Virtual Mini Sessions
The weekend, aimed at advanced level school age string players and pianists (minimum of Grade 6) will combine sectional rehearsals with discussions and talks, as well as the opportunity to play along from home with the ensemble. All participants will receive three hours tuition per day with two hours all together at the start and end of the day and one hour in sectional groups.
Kaleidoscope Chamber Collective Co-Directors, Elena Urioste and Tom Poster commented, 'Kaleidoscope is SO excited to have its first large-scale education project be with the Benedetti Foundation family! We can't wait to share our love for chamber music and all that it can teach us about the world at large – communication, compassion for others, equality and establishing a clear voice – with the next generation of musicians.'
Prospective participants can sign up here. There is an admin fee of £30 to join in and the closing date is 9 September.