All-female Korean quartet based in Germany scoops £10,000 cash prize plus package of concerts and residencies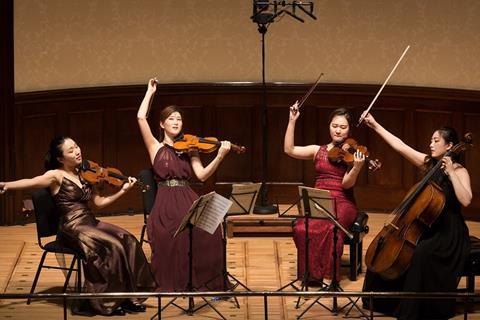 The 14th Wigmore Hall International String Quartet Competition has awarded its first prize to the Esmé Quartet. The ensemble was formed in 2016 at the Hochschule für Musik und Tanz Köln by four South Korean musicians: Wonhee Bae and Yoona Ha, violins, Jiwon Kim, viola, and Ye-eun Heo, cello.
As well as £10,000 prize money, the first place comes with a package of recitals and residencies, including: a Wigmore Hall date in the 2018/19 season, a ten- to twelve-concert UK tour, residencies at the Banff Centre and Avaloch Farm Music Institute, a place at the McGill International String Quartet Academy and a record deal with Champs Hills Records. The Esmé Quartet were also awarded the £1,000 Alan Bradley Mozart Prize.
The £6,000 second prize and £1,000 20th-century prize went to the Goldmund Quartett, while the US-based Viano Quartet picked up the £3,000 and two £1,000 special prizes for the best performances of Thomas Adès and Haydn.
The jury, chaired by Wigmore Hall director John Gilhooly, comprised current and former members of prestigious quartets: Jonathan Brown v(iola, Casals Quartet), András Fejér (cello, Takács Quartet), Nobuko Imai (viola, Michelangelo Quartet), Bjørg Lewis (cello, Vertavo Quartet), Heime Müller (violin, forlmerly Artemis Quartet), Károly Schranz (violin, Takács Quartet).
The triennial London International String Quartet Competition was taken over by the Wigmore Hall in 2010 and counts the Takács and Belcea quartets among its previous winners.
The Esmé Quartet has previously won third prize at the 2017 Trondheim International Chamber Music Competition and the audience prize at the Irene Steels-Wiilsing Foundation String Quartet Competition 2018.