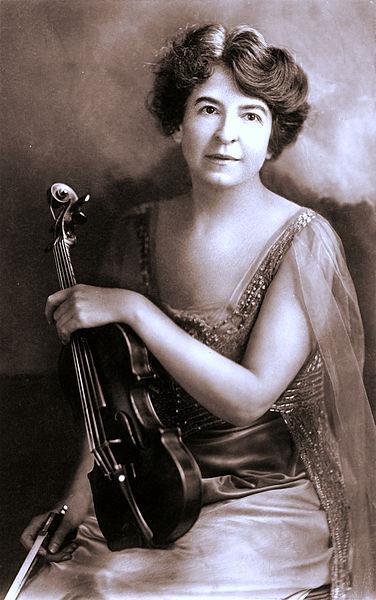 Sir Paul McCartney and Ringo Starr may have stolen the limelight at the 56th Grammy Awards over the weekend when they collected The Beatles' Lifetime Achievement Award, but another Lifetime Achievement recipient has waited even longer to receive the accolade.
Some 94 years after her death, the American violinist Maud Powell (1867–1920) has been honoured by The Recording Academy for her 'creative contribution and artistic significance to the field of recording'. She was the first American violinist to achieve international recognition and was regarded in Europe and America as the foremost woman violinist in the world. In 1904 she became the first solo instrumentalist to record for the Victor Talking Machine Company's Celebrity Artist series (Red Seal label) on a real violin, marking a historic turning point in the history of violin recording following the age of the Stroh violin.
Maud Powell's contribution to the art and science of recording represented just one in a string of firsts that distinguished her career. She was internationally recognised as America's first violin virtuoso of international rank 'who easily ranked among the supreme violinists of the time - Joseph Joachim, Eugène Ysaÿe, and later, Fritz Kreisler,' her biographer Karen Shaffer writes. A list of achievements on the Maud Powell website includes 'first violinist to make worldwide best-selling records' and 'first woman to form and head her own professional string quartet with male players', and she was also responsible for bringing numerous new concertos to the American public, including those by Tchaikovsky (1889), Dvo?ák (1893) and Sibelius (1906).
'At a time when women could not vote and were precluded from playing in professional orchestras, she argued that there was no reason why a woman should not play the violin with the best of the men,' said Shaffer.
Perhaps Maud Powell's greatest achievements lay in her efforts to popularise and democratise classical music in America at a time when appreciation for her art in her country was in its infancy. American violinist Rachel Barton Pine, who accepted the Lifetime Achievement Award on behalf of Maud Powell, said:
'Her magnetic personality, brilliant artistry, scintillating technique, and versatility were unequalled and she used them to introduce classical music to countless new audiences at a time when few performers dared to face the uncertain concert conditions and hardships of travel in North America. She championed music composed by women and by Americans alongside the music of Europeans. She fathomed the depths of the Tchaikovsky and Sibelius violin concertos, giving them their American premieres when other violinists balked at their difficulties. She was among the first white instrumentalists to integrate the works of composers of African descent into recitals and recordings.'
Read our interview with Rachel Barton Pine and Karen Shaffer's article on Maud Powell.
Subscribe to The Strad or download our digital edition as part of a 30-day free trial. To purchase back issues click here.
Photo courtesy United States Library of Congress Prints and Photographs